UPDATE:
April 23, 2020
The Stacks 2.0 Testnet is Live
It appears that Blockstack has launched the Stacks testnet today – To get started right away, visit blockstack.org/testnet.   Go try it out and get ready for the launch of the mainnet later this Summer.
Go to the testnet and try out running a node, mining (coming soon), creating smart contracts, testing…
---
Welcome to The Stack CafeTM — A Giant Leap for Blockstack – Testnet for Stacks2.0, a new mining protocol.
Blockstack is about to introduce a new mining mechanism – Stacks2.0 or proof-of-transfer (PoX).  In this new protocol, a new secure blockchain is established in which the miner transfers the cryptocurrrency to another participant on the blockchain instead of burning the cryptocurrency.  This new Pox protocol helps incentivize – earn rewards – network participants to actively participate in the network but also may help eliminate the bootstrapping problems for new blockchains and make the new blockchain protocol more stable and secure. 
To learn more about PoX, join the community meeting on April 24, 2020.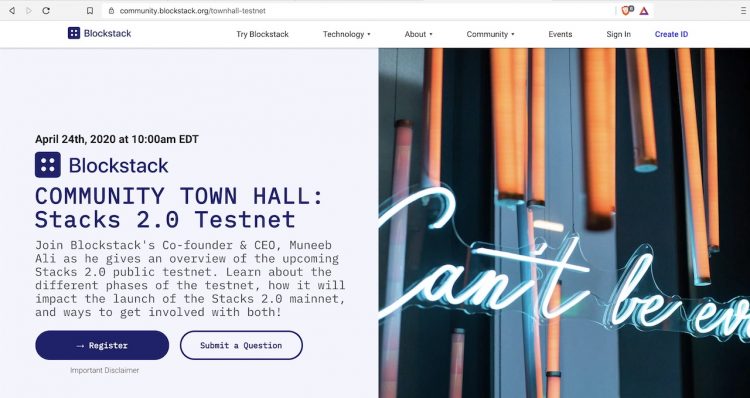 Go to this link to register.  From Blockstack – "Join Blockstack's Co-founder & CEO, Muneeb Ali as he gives an overview of the upcoming Stacks 2.0 public testnet. Learn about the different phases of the testnet, how it will impact the launch of the Stacks 2.0 mainnet, and ways to get involved with both!  Help Blockstack realize Web 3.0 with Proof of Transfer.  Be an early adopter and stay up to date on Proof of Transfer and STX Mining. Subscribe and check out the Proof of Transfer whitepaper and read our introductory blog post."
---
Resources re: Blockstack and dApps
---
Thanks again for visiting The Stack CafeTM.  Please help us put out the word on Web3.0 and the blockchain stack by spreading the word.  Let's help build the new internet | The Decentralized WayTM.  A decentralized internet | The Way The FutureTM.