Welcome to the Stack CafeTM – and XOR: the dApp for web hosting built for use on Blockstack.  With XOR, the ability to host static websites or single page apps on Blockstack and Blockstack's Gaia architecture or any storage medium is now a reality.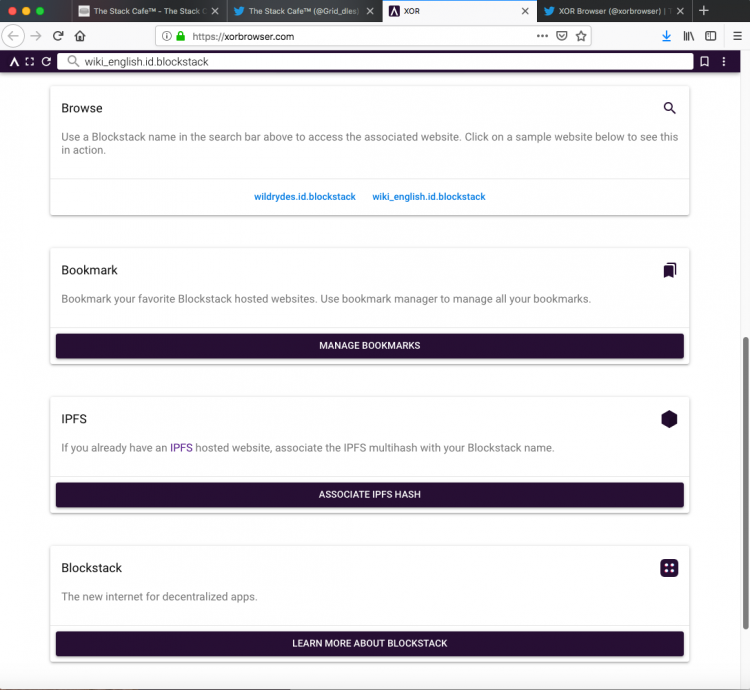 With XOR, the ability to create single page applications or static websites that anyone – using Blockstack with with a Blockstack i.d. – can access, browse and search has come to the decentralized internet within the Blockstack framework.

XOR – is brought to you by Muneeb Majeed – @muneebram.

In the creators own words: "Browse and deploy websites to the new decentralized internet!"
Some of the features of XOR include:
Web hosting on Blockstack – safely store and own your data/website
Storage – use Blockstack's Gaia, IPFS or other storage options – website creator can choose

Ease of Use – drag and drop files for your website…

Searchable – sort and search with ease using a Blockstack i.d.


Bookmark websites with a bookmark manager

No centralized host provider

Custom DNS – point the entry URL to a new DNS
We have tried out the sample websites provided on XOR's website (no issues and both appear to work as a normal SPA…) and hope to update XOR as new features are added.

Please find some additional screenshots from the website for XOR.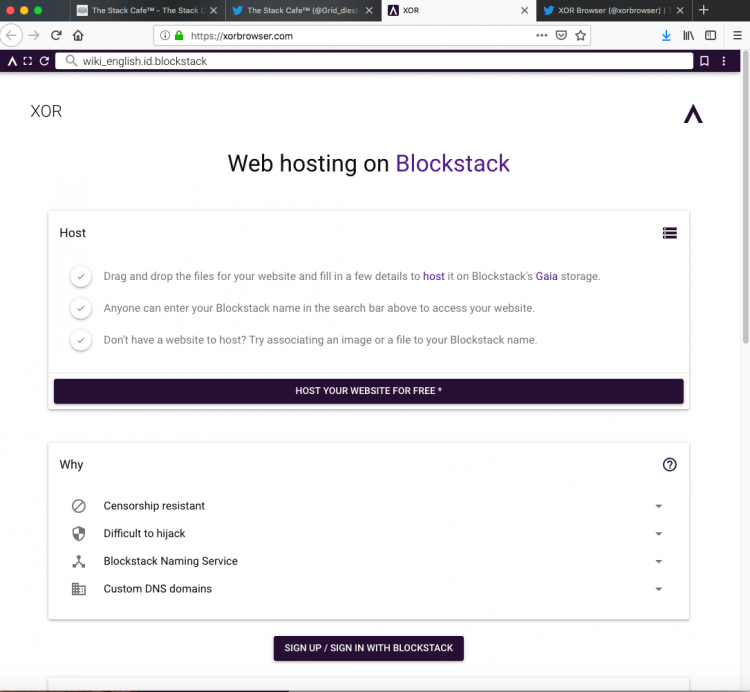 Some basic contact information for XOR:
---
We have not created a website using XOR.  When we do, or when XOR pushes out updates to its platform, we will try and provide some information on the same.  Decentralized application for creating a website via XOR for use on Blockstack.
---
Other helpful links for more information on Blockstack include:
Blockstack – the new decentralized application platform and ecosystem for the decentralized/re-decentralized internet (dApp, dApps, blockchain, bitcoin, distributed and Web 3.0)
---
Note: If you do not have the Blockstack browser, please see this link (note – to enable the full functionality of any dApp built for the Blockstack ecosystem (e.g., building a new internet, a decentralized internet, distributed, blockchain, bitcoin, re-decentralizing the internet) you need to use the Blockstack browser).
For more on All things DeveloperTM, see this link here.  For more on the engineering meetings at Blockstack, please visit the forum.  Blockstack makes the internet you use better!TM
Thanks again for visiting The Stack CafeTM and we look forward to hearing from you.  Please help us put out the word on Web3.0 TM (web 3) by posting a comment below and signing up for e-mail notifications for future updates (right side-bar).  Let's help build the new internet | The Decentralized WayTM.  A decentralized internet | The Way The FutureTM.