Welcome to the Stack CafeTM — Blockstack: UPDATE to the Blockstack Community Rewards Program – Join in, contribute to Blockstack and receive rewards for your contribution.  It has been about a month since we visited the Blockstack Community Rewards and it looks like Team Blockstack and Prism.io have been busy – more ways to contribute and the list of contributors/rewards has grown.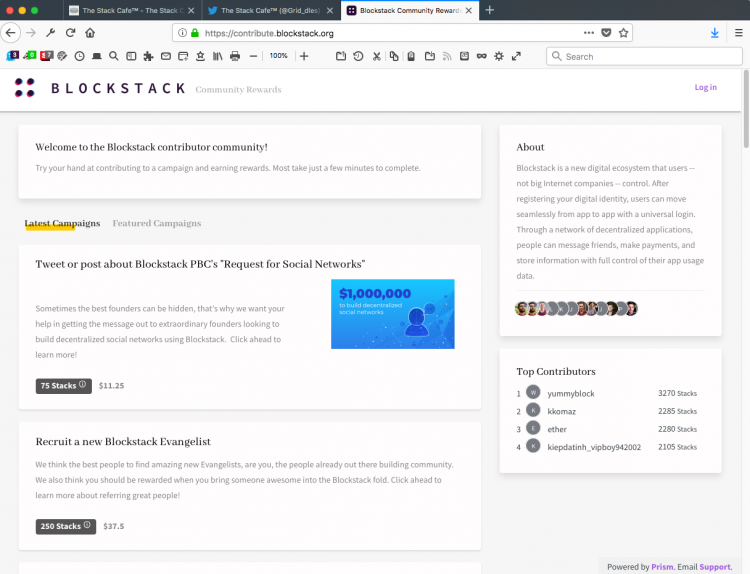 As we mentioned in an earlier post here, the Blockstack Community Rewards Program is a way to reward community members for the value they bring to the ecosystem.
It looks like the ways to contribute has grown and the list of contributors and rewards has grown too.  Let's take a look at what is new to the world of Blockstack contributions and stacks rewards.
For example, it appears that Blockstack PBC has upped the ante and is offering a $1,000,000 in grants of $100,000 each to ten teams to create a new Social Network.  Blockstack PBC puts it this way:

"No single entity should have unilateral say over how 2 billion people connect and communicate. The current centralized model of social networking has created a stranglehold on our collective consciousness, communication, and friend network. But we're at an inflection point — a moment where people can reclaim control of the way they network."
Blockstack PBC will even award stacks to the person that pushes out a tweet or post about the same initiative – Request for a Social Network" –
"Sometimes the best founders can be hidden, that's why we want your help in getting the message out to extraordinary founders looking to build decentralized social networks using Blockstack.  Click ahead to learn more!"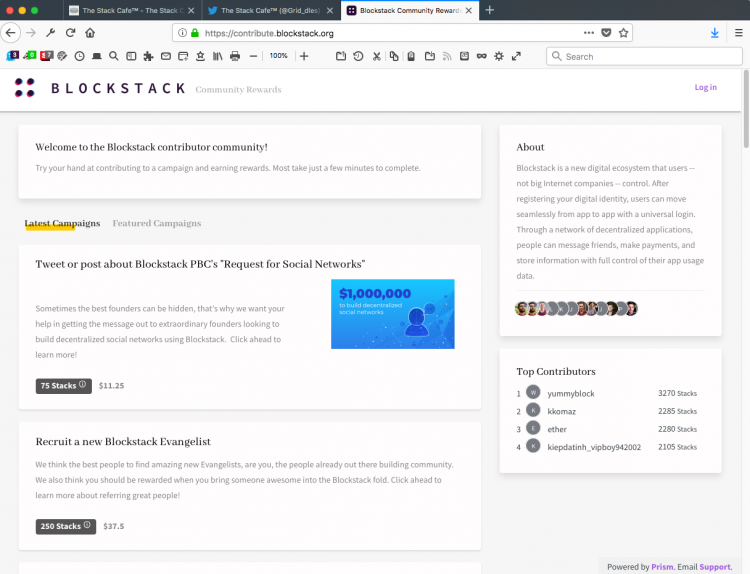 The initiative promoted by Blockstack PBC for the $1,000,000 grants for a new social network can be found here.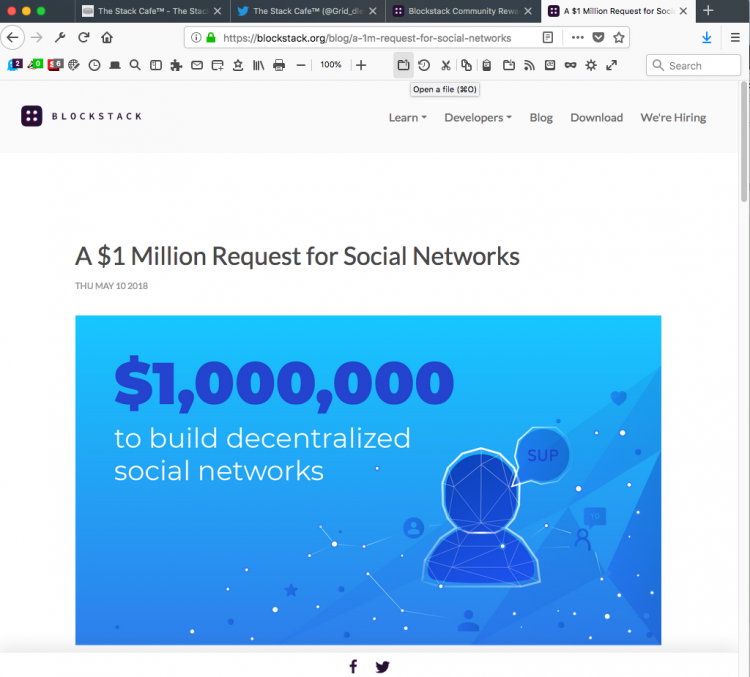 So, if you are up to the task or have the team up to the task, follow the links above and build the social network for the decentralized internet on Blockstack.
Some of the other tasks that one might be able to contribute to include feedback on tutorials, writing a blog post, signing up for Blockstack, unit testing, de-lint(ing), and many others.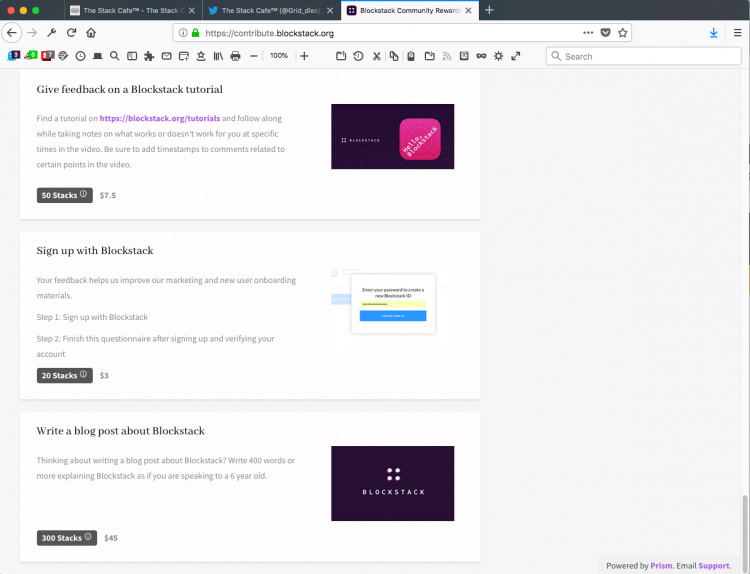 Here are some screenshots of other ideas on how to contribute and the rewards that will be parsed out in Stacks.
---
---
---
Note: If you do not have the Blockstack browser, please see this link (note – to enable the full functionality of any namespace (name/domain name) or dApp built for the Blockstack ecosystem (e.g., building a new internet, a decentralized internet, re-decentralizing the internet, that is distributed via the blockchain, bitcoin), you must use the Blockstack browser).
Download the Blockstack Browser
For help on installing and using the Blockstack Browser, please visit this link Getting started with the Blockstack Browser.

For a more in depth look into the Blockstack Browser, please visit these links – Inside the Blockstack Browser and Blockstack Browser: It does that?
---
Resources re: Blockstack and dApps
---
Thanks again for visiting The Stack CafeTM and we look forward to hearing from you.
Please help us put out the word on Web3.0 TM by posting a comment below and signing up for e-mail notifications for future updates (right side-bar).
Let's help build the new internet | The Decentralized WayTM.  A decentralized internet | The Way The FutureTM.  Web3.0 TM makes the internet you use better! TM