Welcome to the Stack CafeTM — Blockstack Community Meetup for Consensus 2018 in NYC on Monday, May 14, 2018 at 6:30 p.m.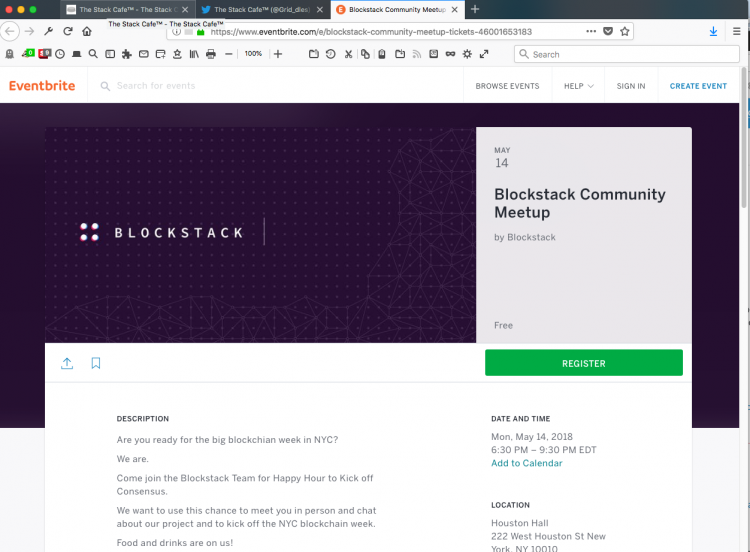 Well, Blockstack is holding an event – Community Meetup – for Consensus 2018 event in New York City this week.  It appears that Team Blockstack will be ready to mingle and engage in conversation for all things blockstack and blockchain on Monday, May 14, 2018.  
The Blockstack Community Meetup event is a great opportunity to meet the people behind Blockstack and kickoff the week for Consensus 2018 in New York City.

A little bit about Blockstack from Blockstack:
Blockstack is a new internet for decentralized apps that you access through the Blockstack Browser. With Blockstack, there is a new world of apps that let you own your data and maintain your privacy, security and freedom.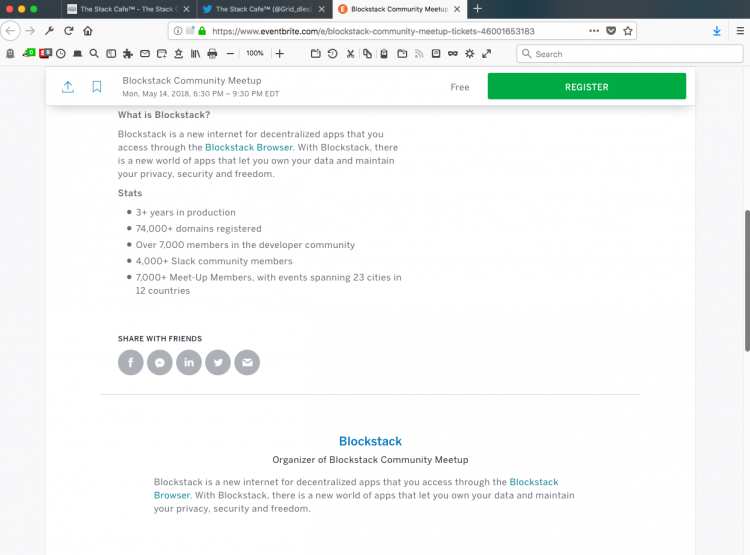 For more on our posts about the Blockstack Browser, please visit this link here.
A little bit about Consensus 2018 from Consenus (Coindesk): 
CoinDesk is proud to present our 4th annual blockchain technology summit, May 14-16, 2018 at the New York Hilton Midtown. Consensus 2018 will feature 250+ speakers and 4,000+ attendees from the leading industry startups, investors, financial institutions, enterprise tech leaders, and academic and policy groups who are building the foundations of the blockchain and digital currency economy.
So, if you are interested in learning more about Consensus 2018, blockchain, digital economy, Blockstack and more… Go check out the Blockstack community meetup tomorrow at Houston Hall at 6:30 p.m.  Meet Team Blockstack and learn about the decentralized ecosystem being built by the same.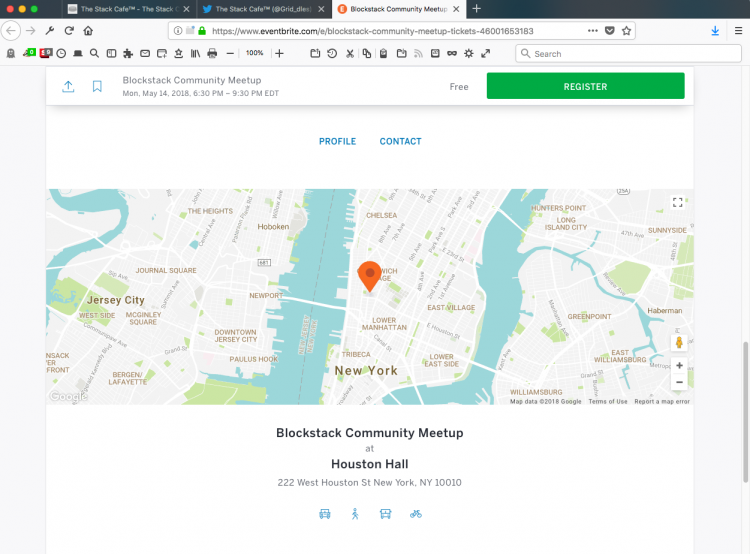 If you are in New York City this next week, and are interested in anything to do with blockchain, bitcoin, Blockstack or more, Consensus 2018 may be a good place to visit.  And, at a minimum, if you want to talk to the Team Blockstack, about Blockstack and what it is building, go to the meetup on Monday, May 14, 2018.
---
Other helpful links for more information on Blockstack include:
Blockstack – the new decentralized application platform and ecosystem for the decentralized/re-decentralized internet (dApp, dApps, blockchain, bitcoin, distributed and Web 3.0)
Blockstack community Meetup for Consensus 2018
---
Note: If you do not have the Blockstack browser, please see this link (note – to enable the full functionality of any dApp built for the Blockstack ecosystem (e.g., building a new internet, a decentralized internet, distributed, blockchain, bitcoin, decentralized, re-decentralizing the internet) you need to use the Blockstack browser).
Thanks again for visiting The Stack CafeTM and we look forward to hearing from you.
Please help us put out the word on Web3.0 TM by posting a comment below and signing up for e-mail notifications for future updates (right side-bar).
Let's help build the new internet | The Decentralized WayTM.  A decentralized internet | The Way The FutureTM.  Web3.0 TM makes the internet you use better! TM