Welcome to the Stack CafeTM — Blockstack: Blockstack Community Rewards Program – Join in, contribute to Blockstack and receive rewards for your contribution. Community spirit is on the rise.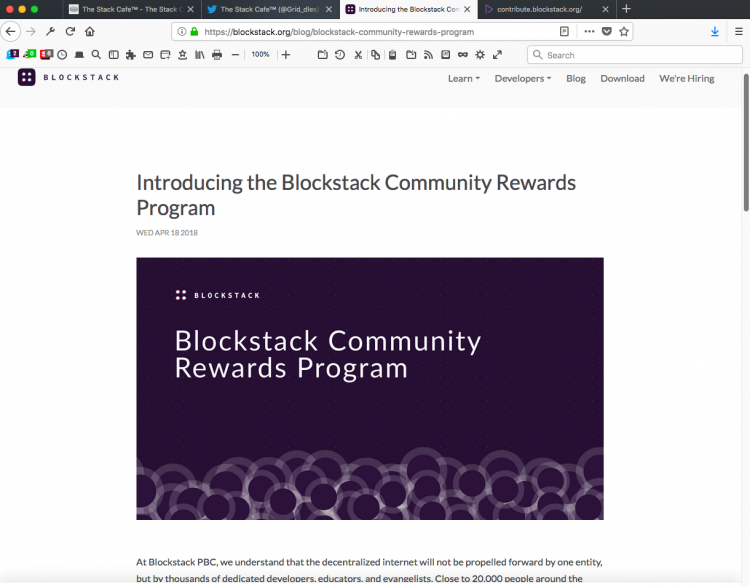 We just heard about the new Blockstack Community reward program introduced on Blockstack earlier today. As described by Blockstack's Patrick Stanley, the Blockstack Community Rewards Program is a way to reward community members for the value they bring to the ecosystem.
In essence, if you can contribute to the Blockstack ecosystem in a technical or non-technical way, Blockstack will issue to said contributor the native Blockstack token, a Stack.
For example, one may contribute by creating a tutorial that showcases some of blockstack's developer tools, use the decentralized apps and help the developers improve the app (feedback on features or glitches), and perhaps feature a member of the Blockstack ecosystem at an event or conference or write a blog post about Blockstack.  Below is a screenshot about the new rewards program.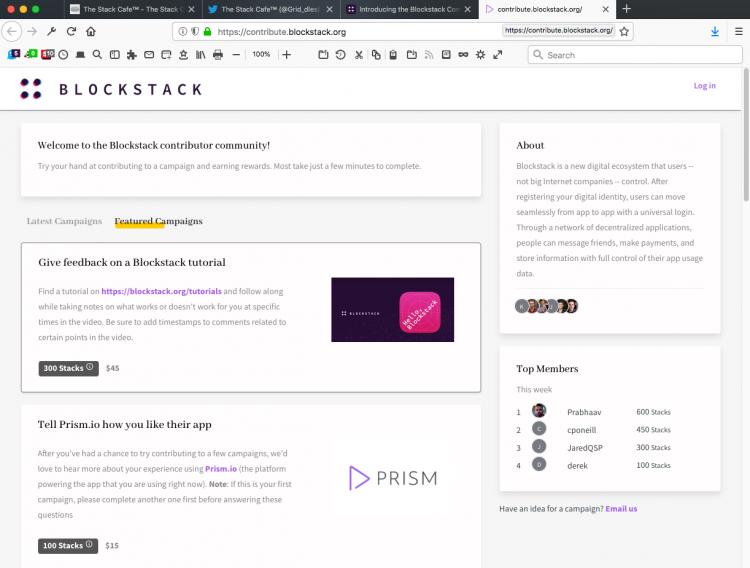 ---
---
---
Note: If you do not have the Blockstack browser, please see this link (note – to enable the full functionality of any namespace (name/domain name) or dApp built for the Blockstack ecosystem (e.g., building a new internet, a decentralized internet, re-decentralizing the internet, that is distributed via the blockchain, bitcoin), you must use the Blockstack browser).
Download the Blockstack Browser
For help on installing and using the Blockstack Browser, please visit this link Getting started with the Blockstack Browser.

For a more in depth look into the Blockstack Browser, please visit these links – Inside the Blockstack Browser and Blockstack Browser: It does that?
---
Resources re: Blockstack and dApps
---
Thanks again for visiting The Stack CafeTM and we look forward to hearing from you. Please help us put out the word on Web3.0 by posting a comment below and signing up for e-mail notifications for future updates (right side-bar).
Let's help build the new internet | The Decentralized Way.TM A decentralized internet | The Way The Future.TM Try out the new internet, The Blockstack Way.TM Blockstack: The New Internet – It Makes The Internet You Use Better!TM