Welcome to the Stack CafeTM — Prism.io Partners with Blockstack on a Community Development Rewards Platform.  Late last week, we heard about the partnering of Prism.io and Blockstack to help Blockstack launch a new community rewards program – Blockstack Community Rewards Program.

Today we are trying to provide a brief overview of Prism.io.

Prism.io describes itself this way – it is "a tool to help the organizations of the future build, incentive and grow their communities and spark movements around them." 
"We are building an operating system for community participation with incentives baked into the core."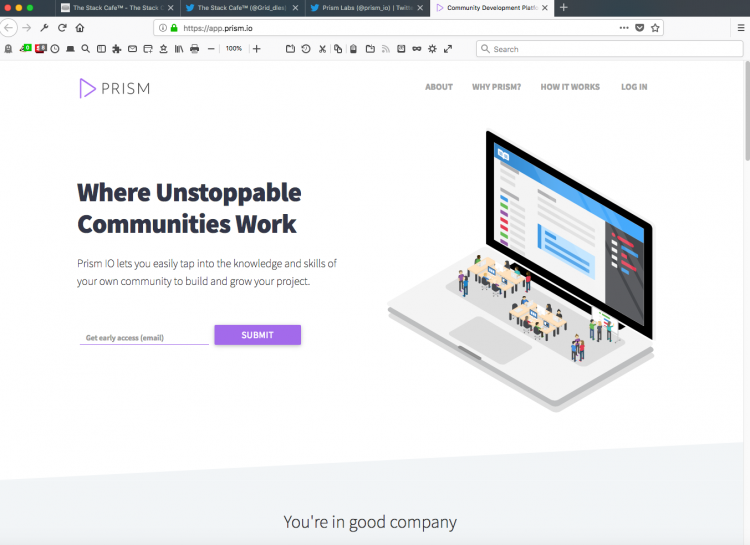 Prism.io is a platform that helps projects connect the company, community, and contributors to help facilitate the growth of the same. 

Prism.io is trying to provide an application that will help companies leverage the knowledge that resides in the community to help grow a project.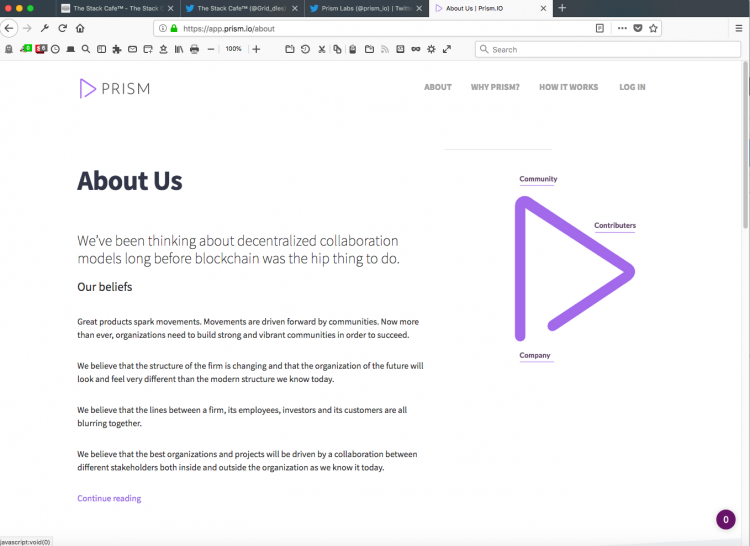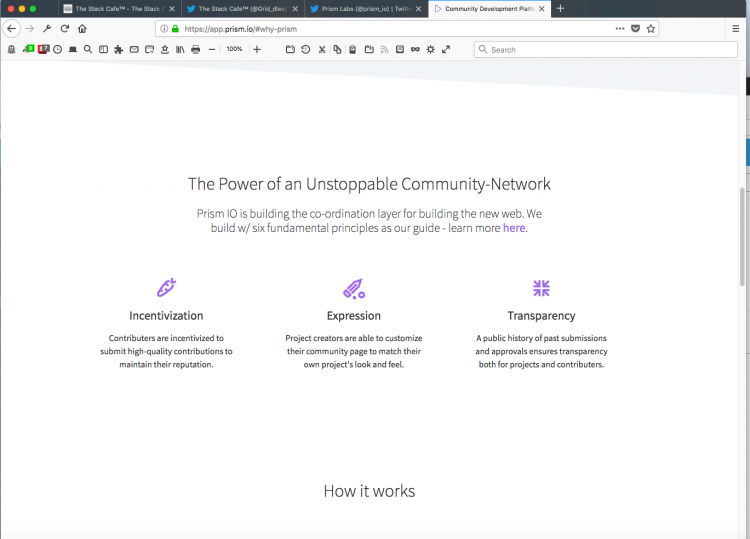 Prism .io was founded by Adam Breckler

Team Prism: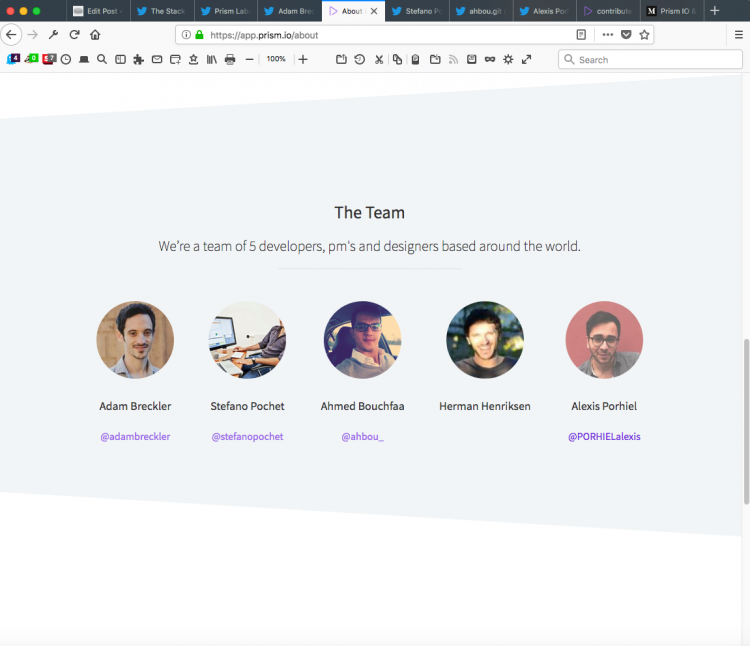 And, Prism.io's application may be used in many ways e.g., surveys, polls, bug bounties, usability test, content creation, social sharing…

To do this, Prism.io launched an application to help a company incentivize the community and contributors through a rewards system platform.  Prism.io describes it as:

"Reward Community Members through 'Proof of Contribution'"
So how does it work?  Well it is as easy as:
Launch a page

Start a campaign

Distribute rewards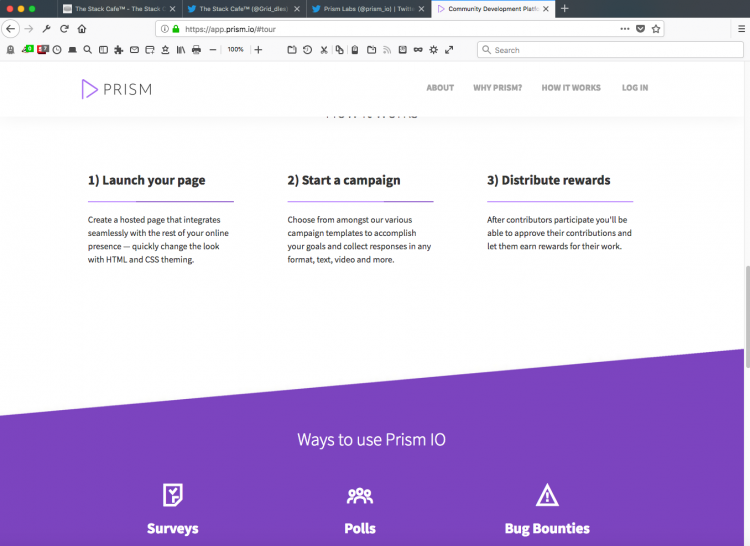 Prism.io can be used by any company and not just companies/applications on the Blockstack architecture. (See Prism.io for more)
The Stack Cafe tried it out too: The Stack Cafe participated in the Blockstack community rewards program and earned some tokens from Blockstack called stacks (potentially earned some tokens as the tokens are not "live" and may not ever be redeemable per Blockstack.)(See below screenshot on Blockstack's disclaimer on tokens – stacks)

For more on Blockstack, please visit this link here, and for more on stacks (token), please visit this link here. (see screenshot below on Blockstack and the token – stacks)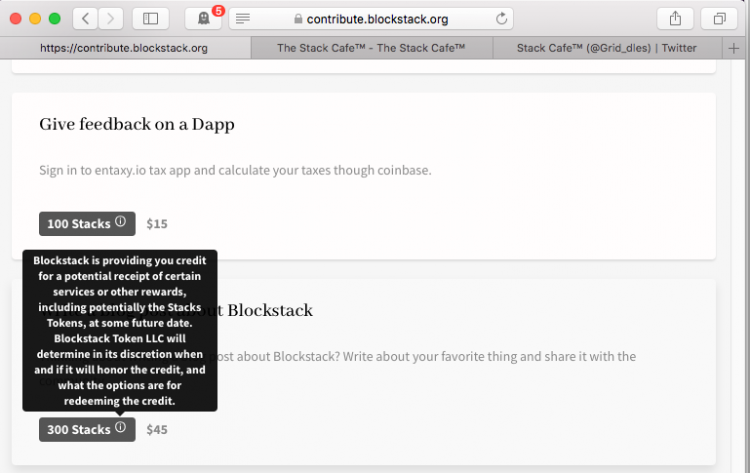 So, Blockstack is asking for you to join in, contribute to Blockstack and receive rewards for your contribution. Community spirit is on the rise. 
In essence, if you can contribute to the Blockstack ecosystem in a technical or non-technical way, Blockstack will issue to said contributor the native Blockstack token, a Stack.
Below is a screenshot from April 23, 2018, related to the new rewards program.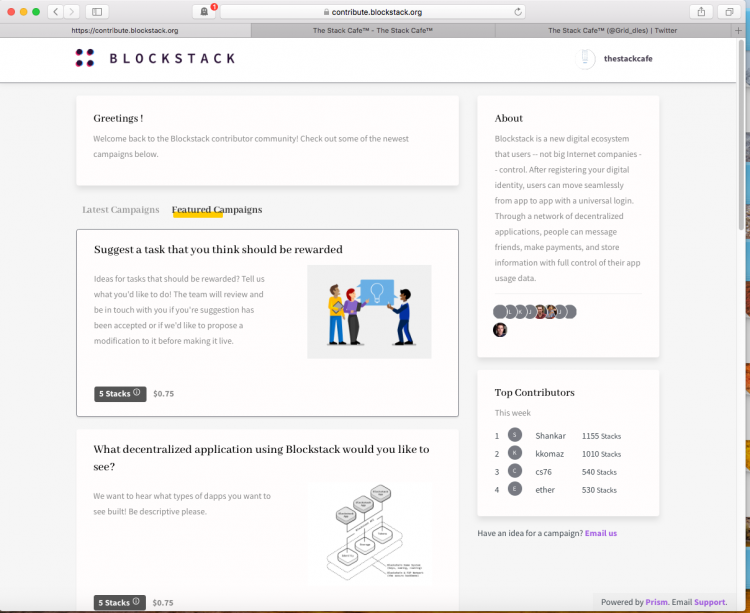 There are many ways to contribute and there probably will be more in the future.  go login with your Blockstack browser and earn some Stacks.

---
And, if you are looking for a platform to help with a project and community involvement, Prism.io may have the platform you have been looking for.  Go check out Prism.io here.
---
---
---
Note: If you do not have the Blockstack browser, please see this link (note – to enable the full functionality of any namespace (name/domain name) or dApp built for the Blockstack ecosystem (e.g., building a new internet, a decentralized internet, re-decentralizing the internet, that is distributed via the blockchain, bitcoin), you must use the Blockstack browser).
Download the Blockstack Browser
For help on installing and using the Blockstack Browser, please visit this link Getting started with the Blockstack Browser.

For a more in depth look into the Blockstack Browser, please visit these links – Inside the Blockstack Browser and Blockstack Browser: It does that?
---
Resources re: Blockstack and dApps
---
Thanks again for visiting The Stack CafeTM and we look forward to hearing from you. Please help us put out the word on Web3.0 by posting a comment below and signing up for e-mail notifications for future updates (right side-bar).
Let's help build the new internet | The Decentralized Way.TM A decentralized internet | The Way The Future.TM It Makes The Internet You Use Better!TM