Welcome to the Stack CafeTM — Blockstack: A New dApp – Kanstack kanban boards.  We just heard about a new decentralized application, a kanban board.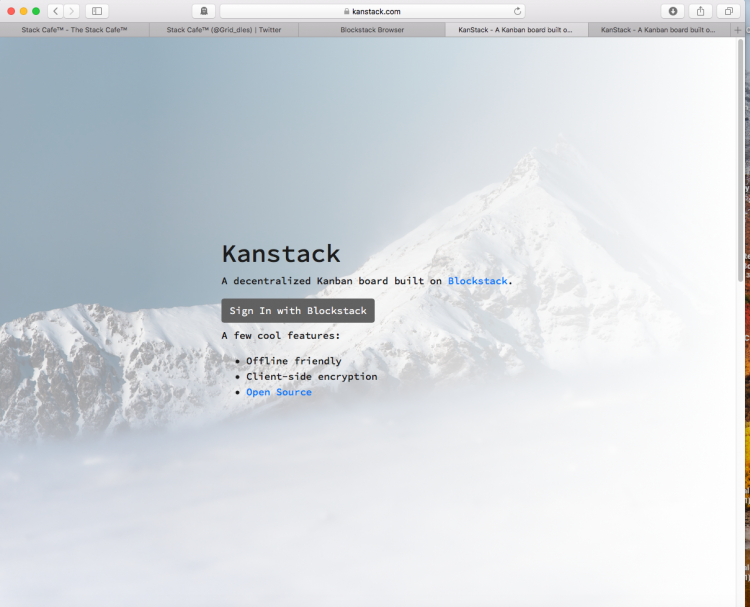 Today, we will try and provide a brief overview of the new application.  When updates are pushed out, we will try and provide new posts as appropriate.  Kanstack recently launched a kanban board application (an alpha version) that you can use with Blockstack's Browser (for full functionality).
According to Kanstack, the kanban board application is


A decentralized Kanban board built on

Blockstack.

Features including:

Offline friendly

Client-side encryption
We have logged in to the application and have created a new board as shown in the screenshots below.  We hope to cover future updates at the appropriate time.

Here are some screenshots of a kanban board related to the developer Hank Stoever.


First, make sure you are using the latest blockstack browser and sign in to the kanstack application.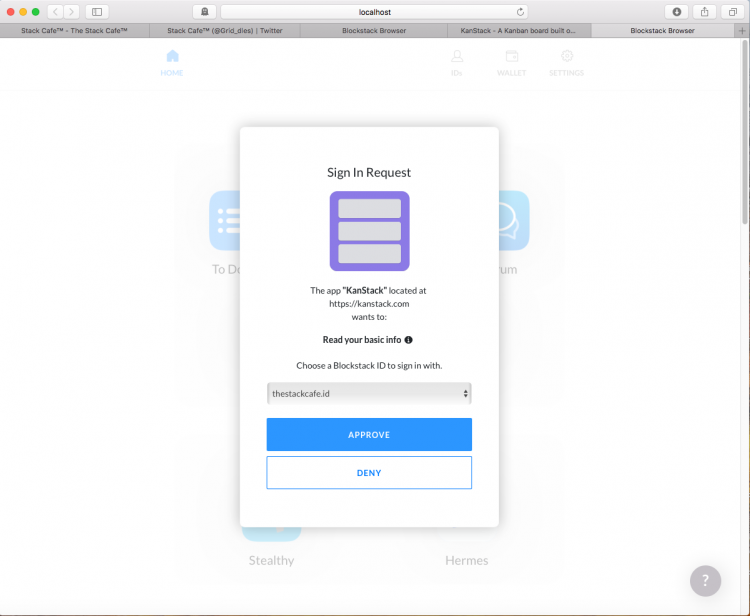 Once signed in (authenticated), the next page you will find is the "New Board" page.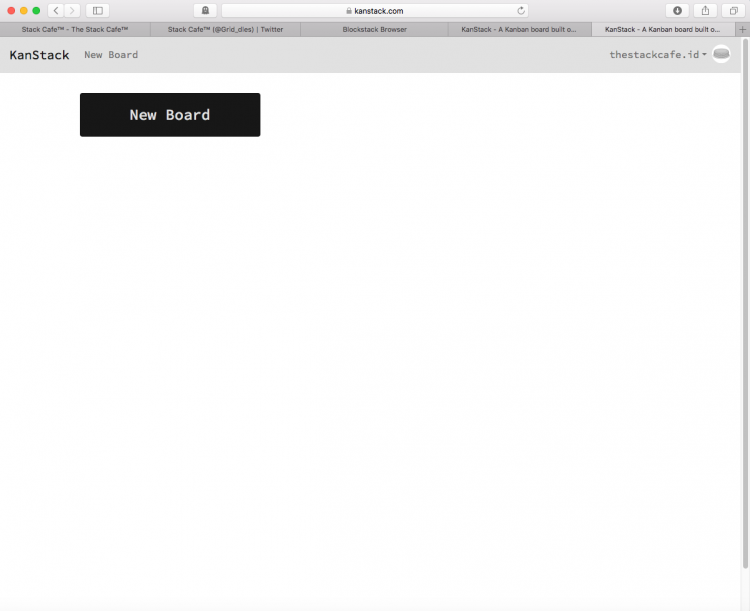 Add a board: Click on the new board button to give the new board a "Name" – here we are just creating a simple board for illustrative purposes – use it for many other ways and purposes, be creative…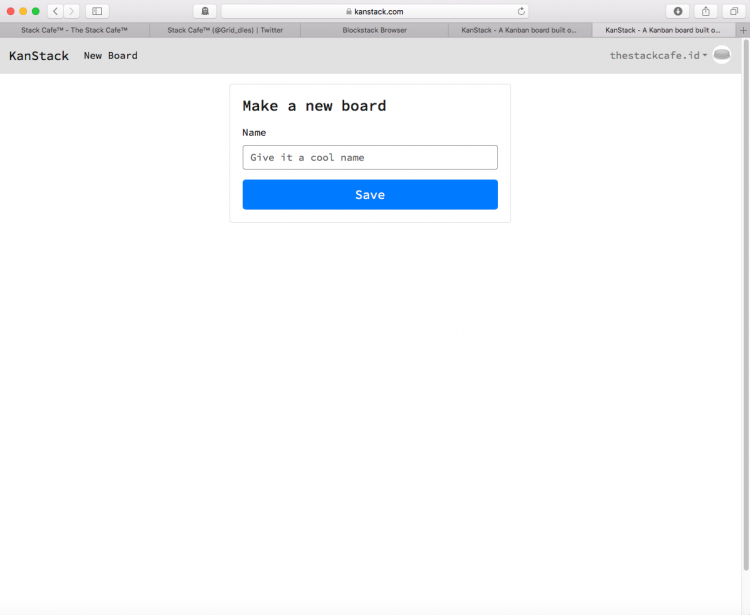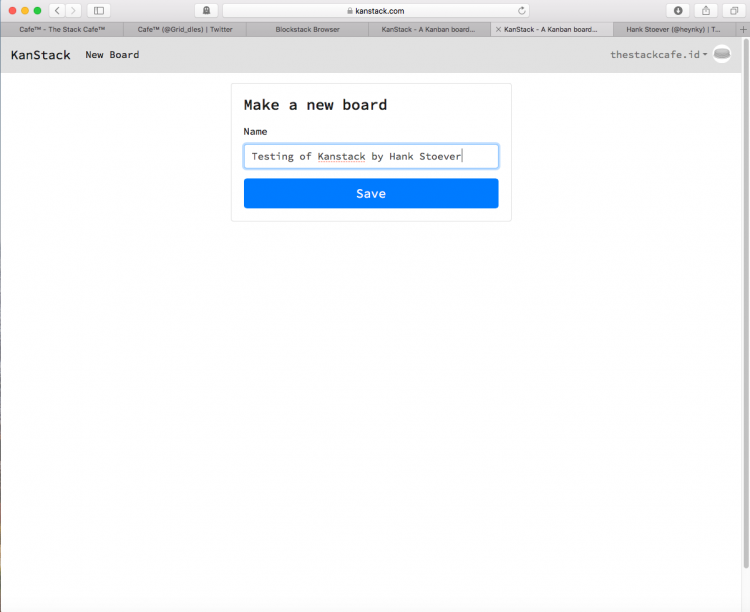 Once you have given the new board a name and saved it, you can refresh the page and find the new board we created – "Testing of Kanstack by Hank Stoever"- and if you want to add a new board, the tab is right there too.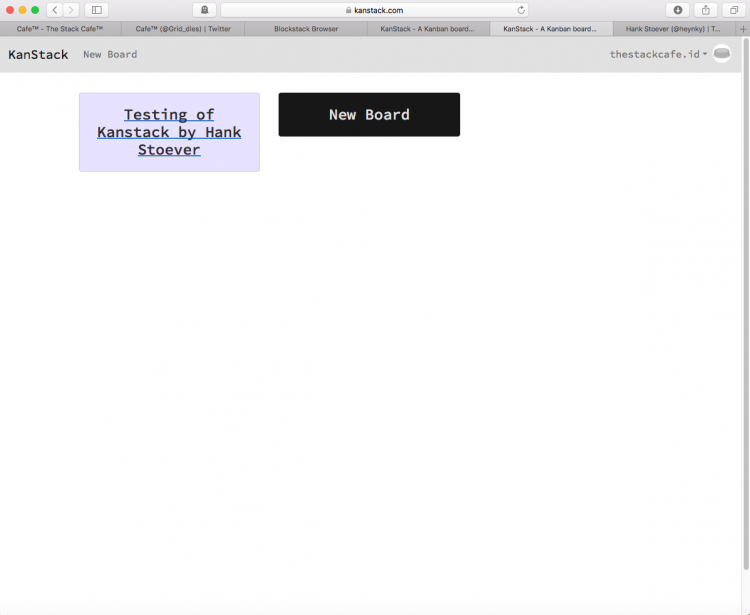 Now you have a new board, let's add some new items – "Add a List" to the kanban board that we may need etc.  Click the "Add a List" button.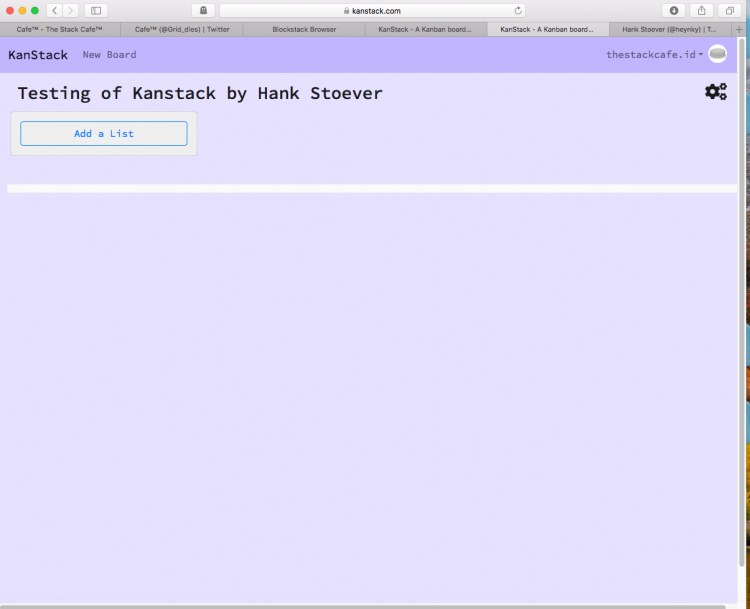 Here, we are adding some contact information for Hank Stoever, the developer of Kanstack.com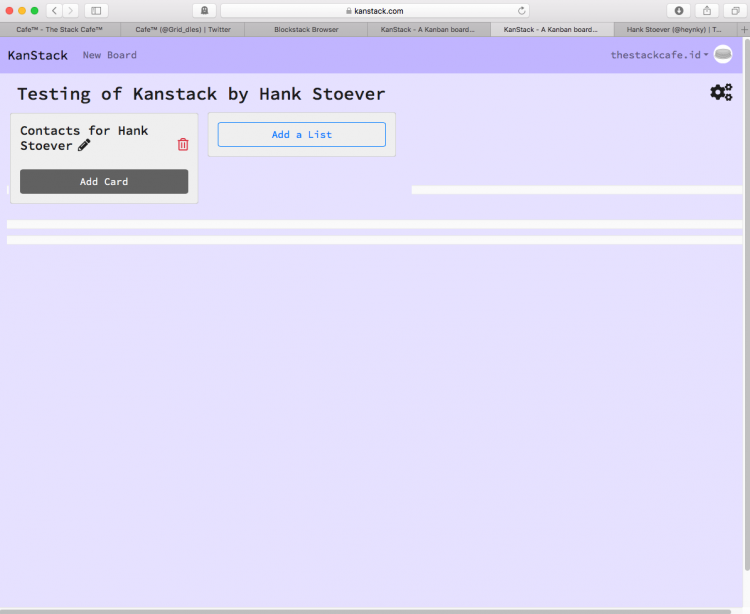 To add some items, click on "Add Card" and give it a name, add Tasks, Due Date, and some additional notes.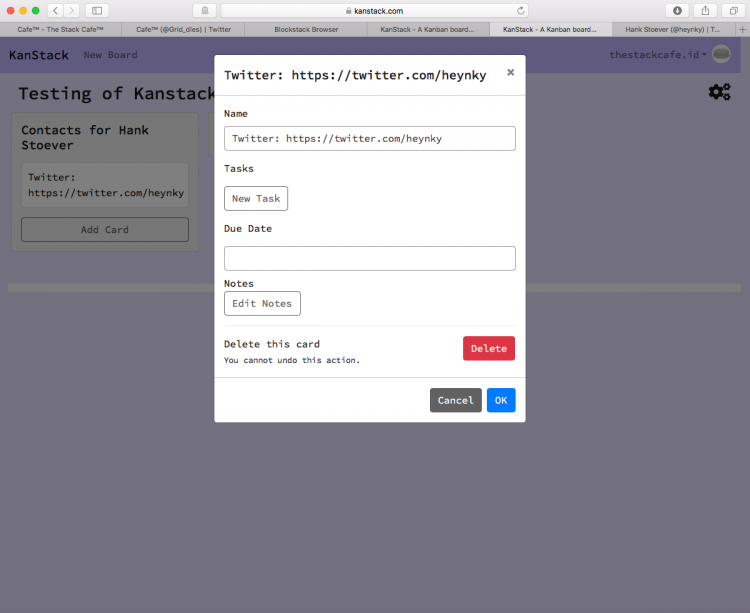 See here – adding a Due date for our card and kanban.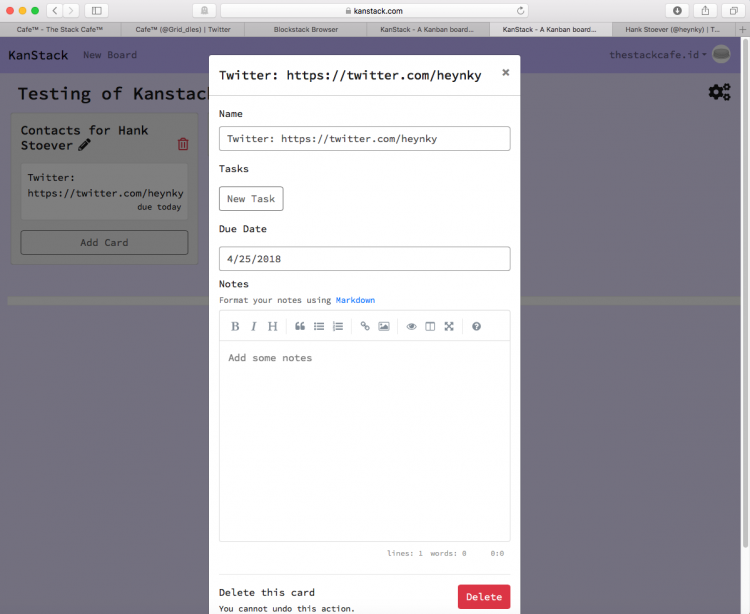 Add some additional notes to the kanban card in the "Notes" section.  Note the editing features e.g., html, etc.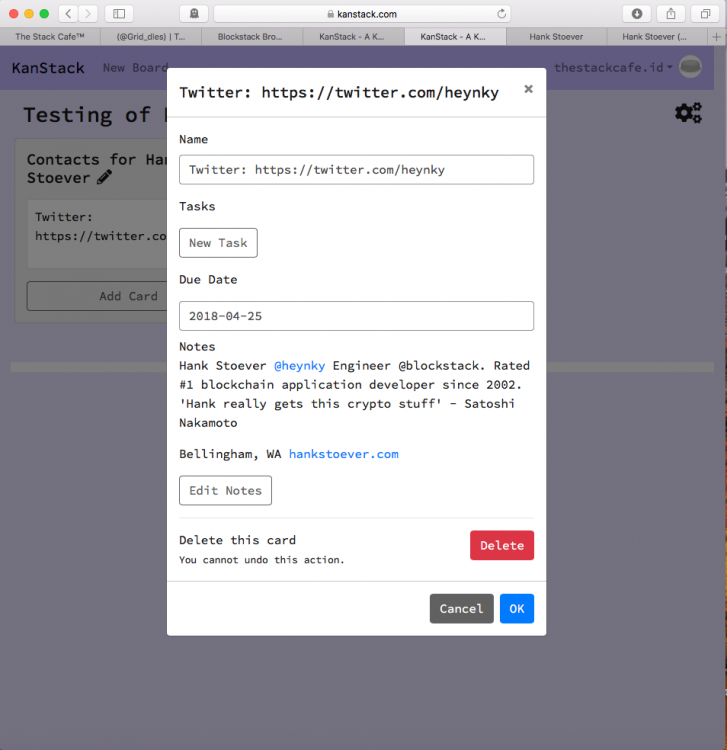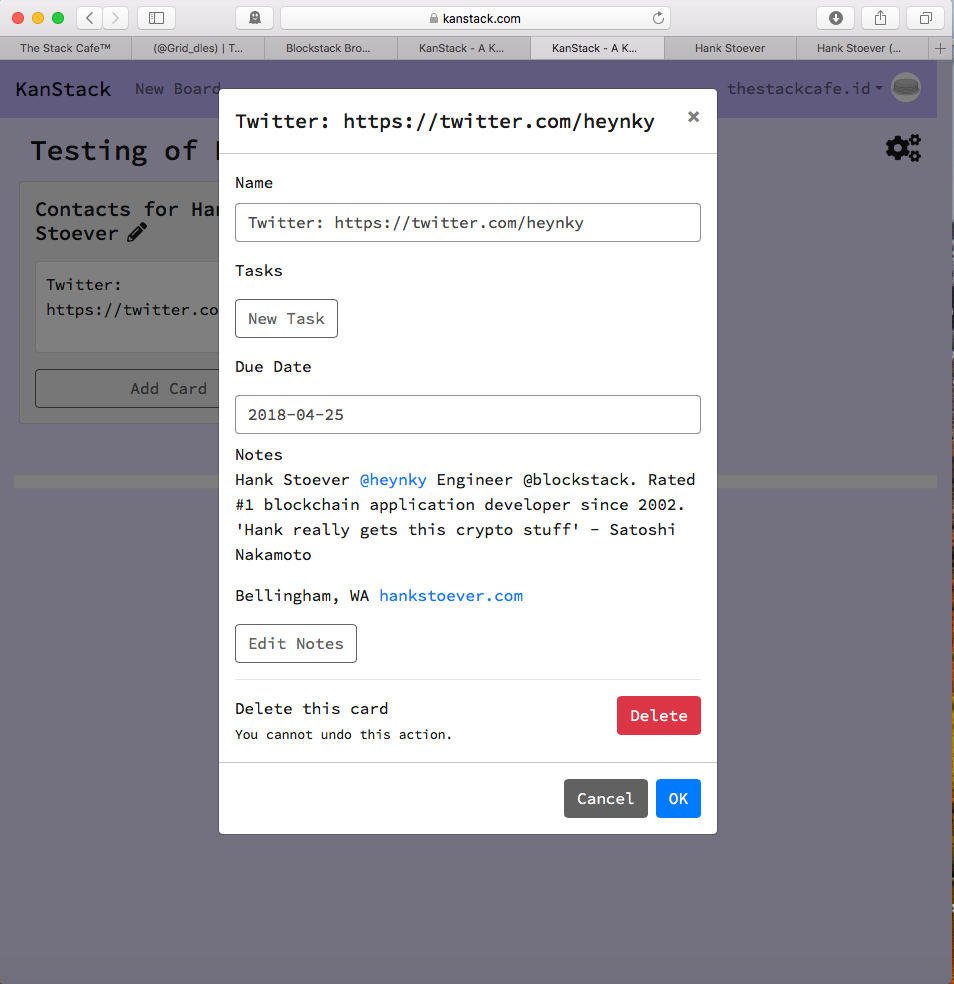 And, to top it all off, you can even add a splash of color to your kanban board if you so desire.
Here you can see the completed kanban board – Testing of Kanstack by Hank Stoever and the additional items e.g. card, notes due date etc.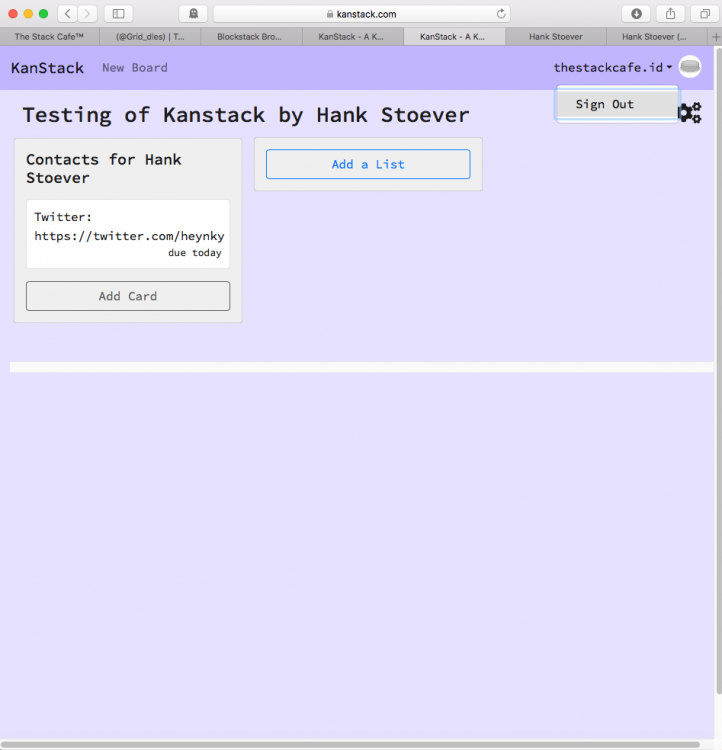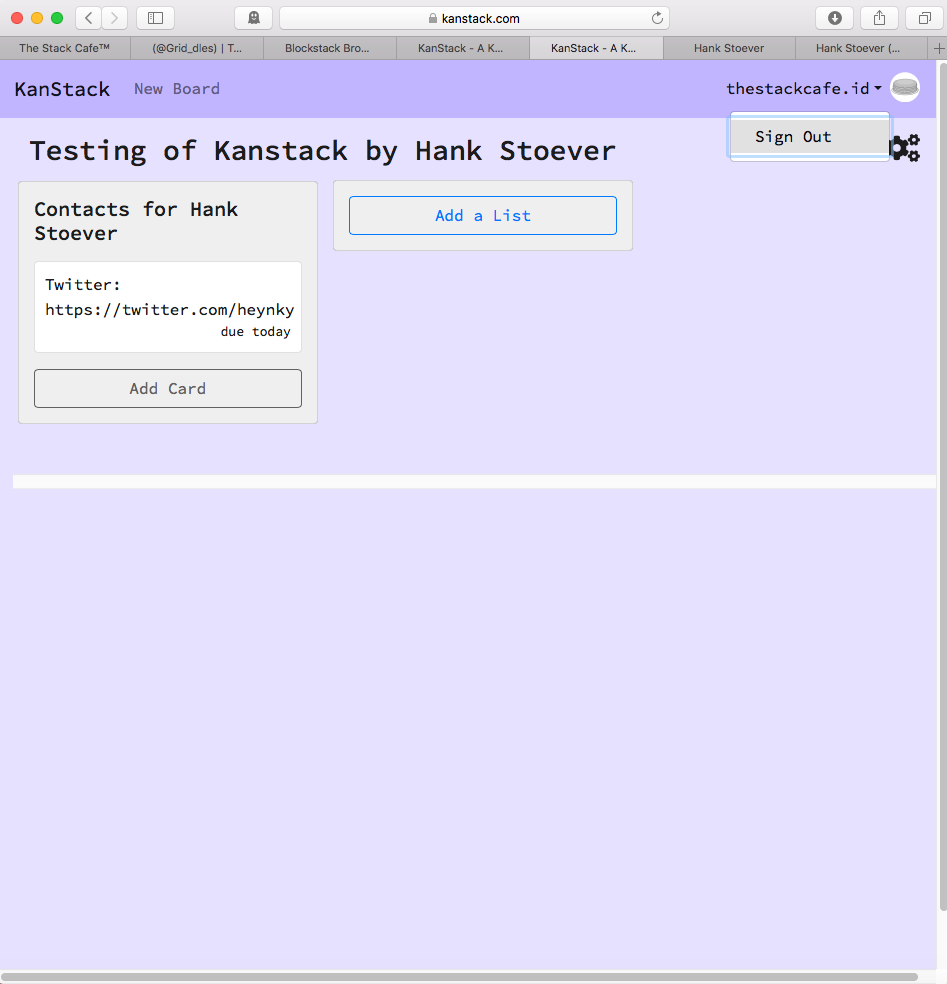 For more on Mr. Stoever, please visit these pages:

twitter: @heynky

website: Hank Stoever

Hank Stoever's Github page – HS Github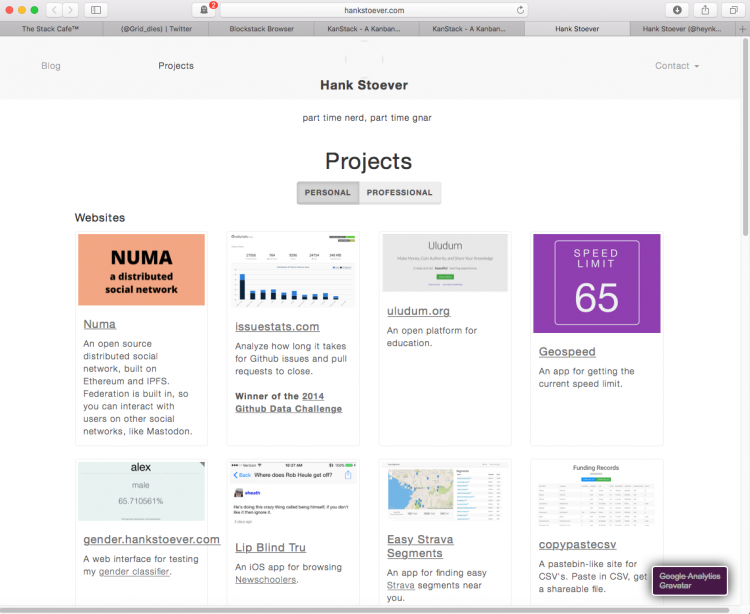 ---
Looks like a great new dApp from Mr. Stoever.  We will try and provide updates on the dApp as new features etc. are pushed by Team Kanstack. Stay tuned! For more on Kanstack, please visit this link here.  Great new dApp for decentralized, secure, encrypted kanban boards. Very nice Team Kanstack.
---
Remember, you have to have the Blockstack Browser in order to take full advantage of the decentralized internet from Blockstack.
THE BLOCKSTACK BROWSER
Blockstack harnesses all of the power of the traditional internet and then adds the Blockstack Browser on top. The Blockstack Browser opens the window to a new internet, a decentralized internet that puts the power back in the hand of the users.
To begin your journey into the new decentralized internet designed by Blockstack, you will need to install the Blockstack Browser. The Blockstack Browser is your window/portal into the new decentralized internet for decentralized applications (dApps).
Download the Blockstack Browser
For help on installing and using the Blockstack Browser, please visit this link Getting started with the Blockstack Browser.

For a more in depth look into the Blockstack Browser, please visit these links – Inside the Blockstack Browser and Blockstack Browser: It does that?
Now that you have the browser installed, visit the Blockstack Browser homepage and try out some of the active decentralized applications – e.g., investment portfolio management, messaging, word processing… More decentralized applications are being added as developed.
---
---
Resources re: Blockstack and dApps
---
Thanks again for visiting The Stack CafeTM and we look forward to hearing from you. Please help us put out the word on Web3.0 by posting a comment below and signing up for e-mail notifications for future updates (right side-bar).
Let's help build the new internet | The Decentralized WayTM. A decentralized internet | The Way The FutureTM. The New Internet – It Makes The Internet You Use Better!TM