Welcome to the Stack CafeTM — Blockstack: The Signature Fund Opens its Wallet once again for a new Bounty – a Universal Wallet.

As mentioned previously, one aspect of promoting the Blockstack ecosystem is to provide a platform to help support the global community of developers, designers, and others to submit their ideas and products for a chance to win a prize.  Over the last quarter or so and into 2017, Blockstack's Signature Fund has held several bounties – see these links, here, and here (winner of portfolio app). 
Well, once again, the Blockstack Signature Fund — a $25 million dollar fund used to help support teams to build applications for the new internet has yet again announced another bounty for a dApp.  And, once again, Blockstack has partnered with a another project – ShapeShift – to bring the open source world a new wallet platform – Universal Wallet.
April 25, 2018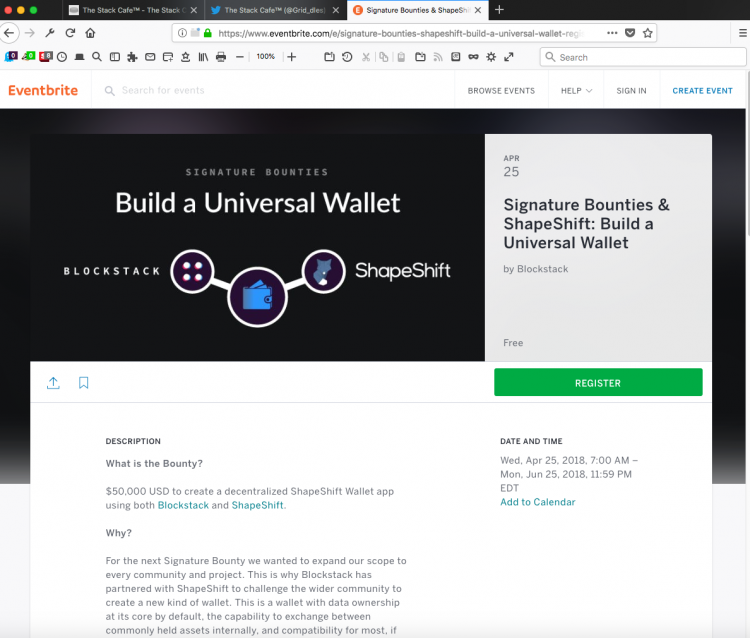 Blockstack Partners with ShapeShift (leading instant digital asset exchange) to build a universal wallet
Details
Register for the bounty at Blockstack
---
Other Bounties announced so far (completed):
2018
Blockstack: $50,000 Bounty for Messaging and Communication Applications…
2017

Encrypted Token Portfolio app – Coins (winner of bounty)
---
Blockstack Signature bounty for a new universal wallet is open and waiting for the Community. Go to this link for more details from Blockstack re: $50,000 Signature Bounty.
---
Note: If you do not have the Blockstack browser, please see this link (note – to enable the full functionality of any dApp built for the Blockstack ecosystem you need to use the Blockstack browser).
Thanks again for visiting The Stack CafeTM and we look forward to hearing from you. Please help us put out the word on Web3.0 (e.g., building a new internet, a decentralized internet, a new decentralized internet, re-decentralizing the internet) by posting a comment below and signing up for e-mail notifications for future updates (right side-bar). Let's help build the new internet | The Decentralized WayTM.  A new decentralized internet | The Way The FutureTM.