Welcome to The Stack CafeTM — Open Collective: Transparent Crowdfunding for Associations… open collective is an open source project to help associations, organizations.. and other collaborative efforts raise money through crowdfunding.
The entire process is deemed to be fully transparent, from raising funds, expenses, reimbursements to other spending…. It looks like a neat open source crowdfunding platform for associations.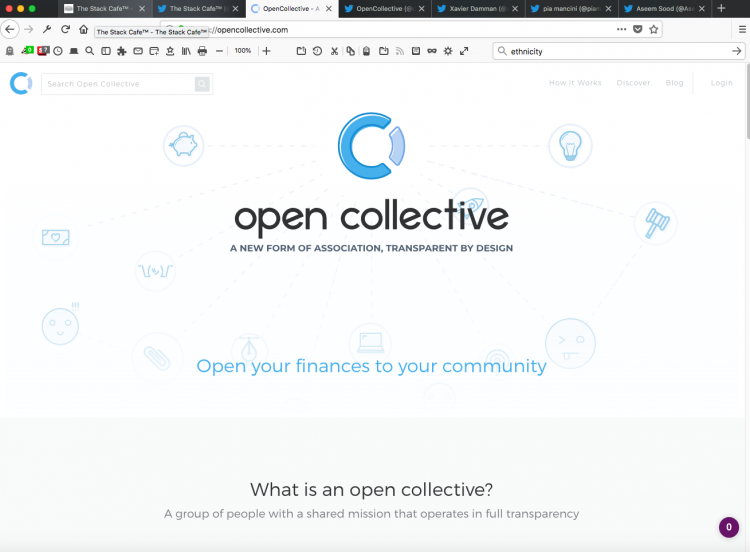 We will try and do a quick overview of open collective for you.

With open collective, the developers put forth an open source platform to help open source projects that have created open collectives to raise money and share their expenses in a transparent way.

open collective further describes itself in these words:

"OpenCollective enables groups to quickly set up a collective, raise funds and manage them transparently.

We want all those seeds to have a chance to grow, to bring their ideas to life. We believe everyone should have the tools to create the organizations of tomorrow. And we are dedicating ourselves to making that happen!"
Sounds great, and it is open source and transparent.
And, it appears to help solve the problem of raising resources to fund new ideas whether the group is small or large. This type of project may blend in well with other open source projects e.g. blockstack.(or dApps on top of blockstack e.g. Souq)

A rundown – on how open collective works – from one of the developers can be found at this link here and here.
Below, we provide some screenshots and links for learning more about open collective. We hope you find this useful.
A new form of association, transparent by design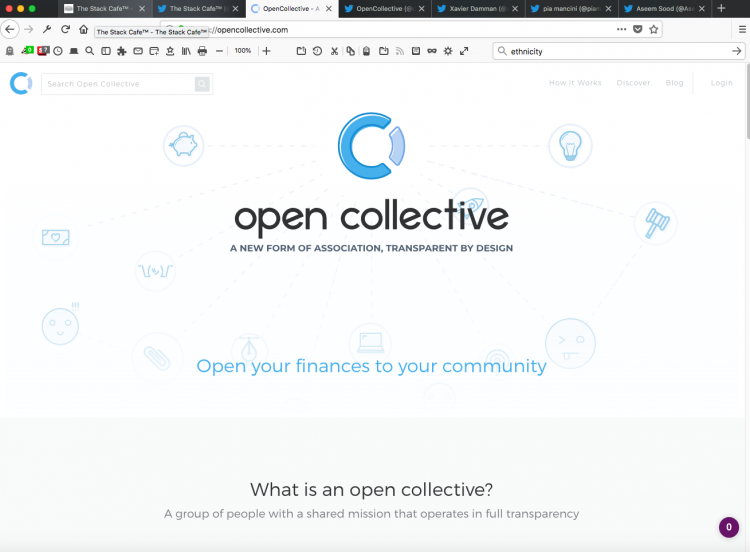 crowdfund and then make sure the finances (funding,expenses,reimbursements,spending…) are open for all to see (transparency)

Own your data

export all your backers with their e-mail address at any time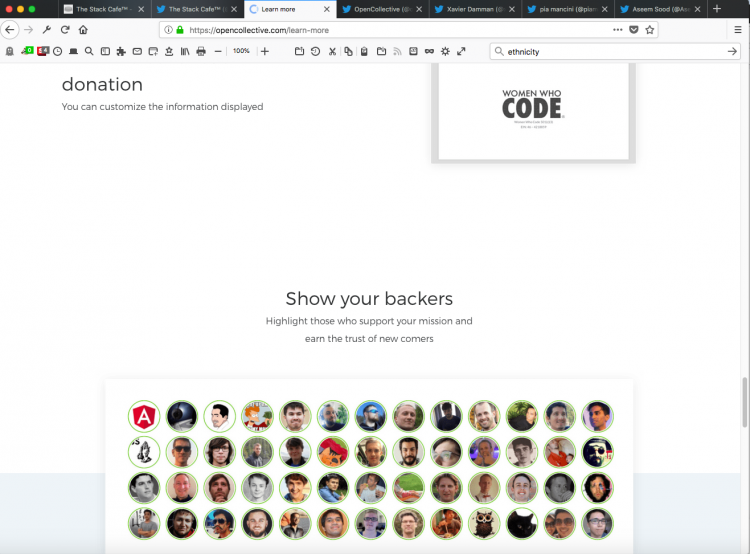 an example of an association using open collective is Women Who Code

"We are a 501(c)(3) non-profit dedicated to inspiring women to excel in technology careers. 137,000 members strong in 60 cities spanning 20 countries & counting"
---
We have not tried out open collective but will give it a go at some point (when we do we will try and provide a brief overview). But, it looks like a great tool to help with the transparent crowdfunding space. In the meantime, go give it a try and give us and/or open collective some feedback.

In addition, open collective is open source. We like that and try to promote open source. See our post on open source here.
And, perhaps it may be a tool that can be used on the Blockstack ecosystem (e.g. a decentralized voluntary association crowdfunding – or perhaps it may be a good chance for collaboration with another dApp that does the same type of thing for voluntary associations and crowdfunding – cryptocracy/souq).
If you have not tried out Blockstack, you can find some links below to help you get started in the decentralized internet platform for identity, security and storage. Gotta have the Blockstack browser –

Note: If you do not have the Blockstack browser, please see this link (note – to enable the full functionality of any dApp built for the Blockstack ecosystem (e.g., decentralized, building a new internet, a decentralized internet, re-decentralizing the internet) you need to use the Blockstack browser).

Remember, per Blockstack – all information or data you create or store using a dApp via your Blockstack Browser is encrypted and securely stored in a decentralized manner. And, it is only accessible by you and only those you give access to your data and information.
---
Other helpful links for more information on Blockstack include:
Blockstack – the new decentralized application platform and ecosystem for the decentralized/re-decentralized internet (dApp, dApps, blockchain, bitcoin, distributed and Web 3.0)
For more on All things DeveloperTM, see this link here. For more on the engineering meeting at Blockstack, please visit the forum. Blockstack makes the internet you use better!TM
---
Thanks again for visiting The Stack CafeTM and we look forward to hearing from you. Please help us put out the word on Web3.0 by posting a comment below and signing up for e-mail notifications for future updates (right side-bar).
Let's help build the new internet | The Decentralized WayTM.
A decentralized internet | The Way The FutureTM.