Welcome to the Stack CafeTM — We recently heard about a new goody (decentralized application – dApp) being whipped up for use on the Blockstack ecosystem.  Graphite is launching a new decentralized application of its new word processing (documents) and sheets application that will be powered by the Blockstack decentralized internet platform.  Let's take a quick peek at Graphite.
Update – 1.25.2018: Just off the Grid[dle]TM – Team Graphite just pushed out an update for Windows users related to the multi-player storage functionality.  Now Windows users should be able to share documents and sheets.

UPDATE – 1.30.2018: Just off the Grid[dle]TM– We heard that the developer of the multi-player storage dApp Graphite will be joining the Blockstack team in Berlin to exhibit the Graphite dApp during the show.  Great news for Graphite and Blockstack.
What is Graphite?  According to Graphite (screenshots from Graphite's website), Graphite is the decentralized application (dApp) that empowers you to create and write something new (documents or sheets) without giving up your privacy (think of Graphite as a privacy-focused replacement for Google Docs—something that lets you own your writing).  The purpose of Graphite is to allow the user of the application on the blockstack internet architecture to create, store and share any document or sheet in a secure and decentralized way.
When a user creates documents or sheets with Graphite, the user: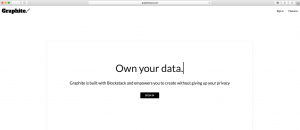 Can control access to its files (share (documents and sheets) at its discretion)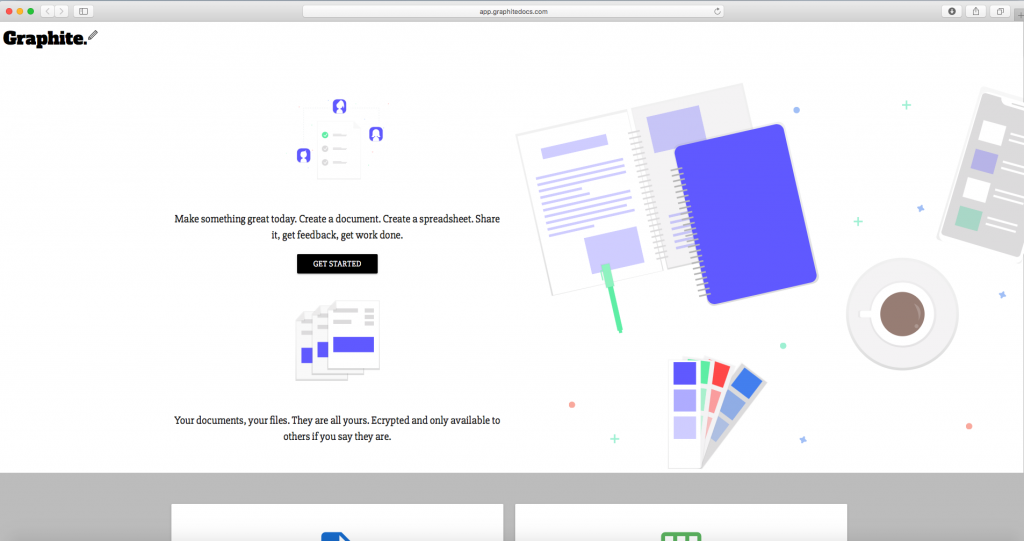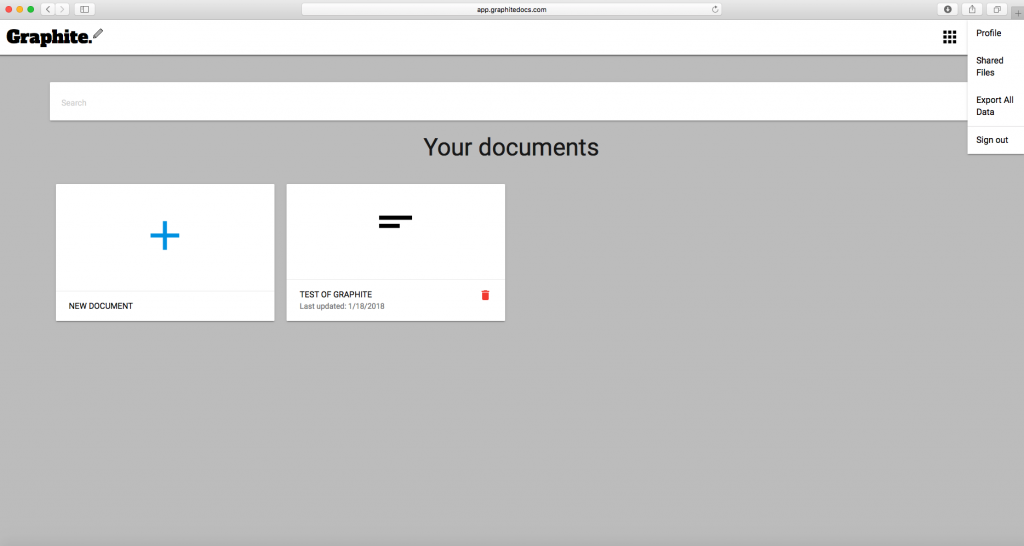 Graphite firmly believes that when you create something, the creator:
should own it
should be able to store it where the creator wants
should be able to access it when the creator wants to
should be able to use it how the creator wants to use it
should be able to share it (control on who to share it with).
And, when you use Graphite in connection with the Blockstack browser (provides the platform for encrypting (saving) and decrypting the data (loading it)), Graphite (or Blockstack):
never has access to your information (data is encrypted only for the user to see or share…)

does not store your data (this is done on the storage platform the user selected via blockstack browser)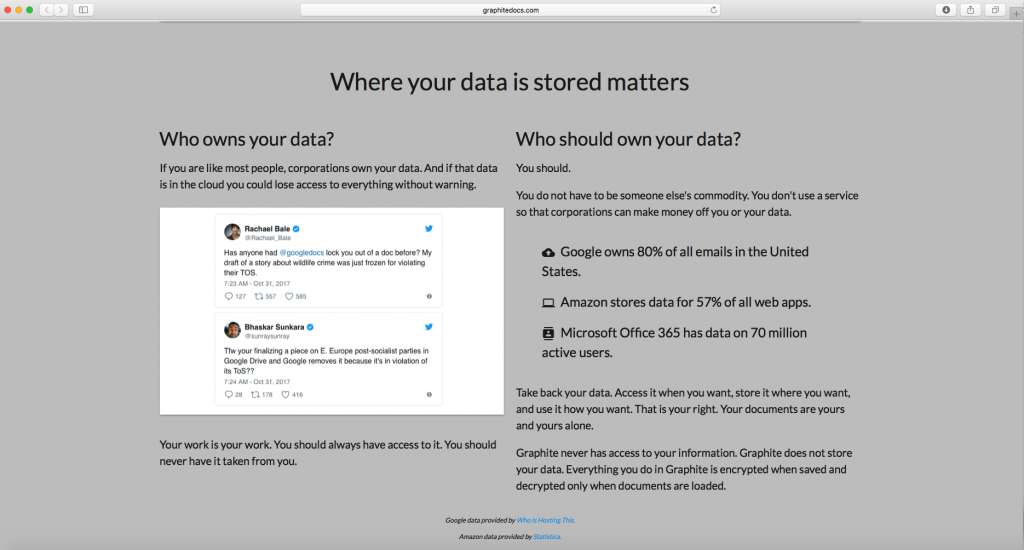 Graphite lists some of the applications features including auto-save, preview, printing and many others.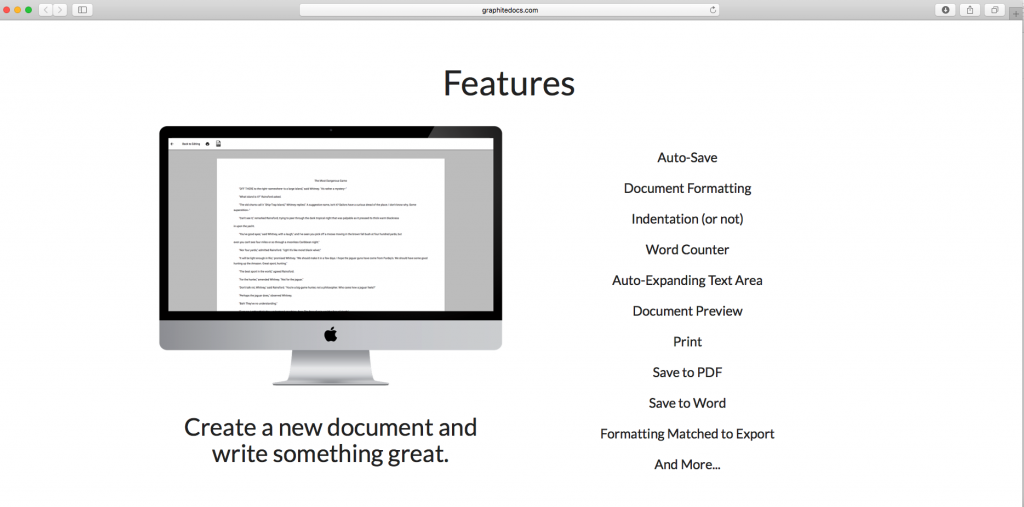 To get started with Graphite, first make sure you have the Blockstack Browser installed and running (See Blockstack: Getting started… and *CAVEAT below).  Then, navigate to the Graphite login button (icon) which will start the application using the Blockstack browser on your local machine (screenshots may be slightly different depending on updates to blockstack browser).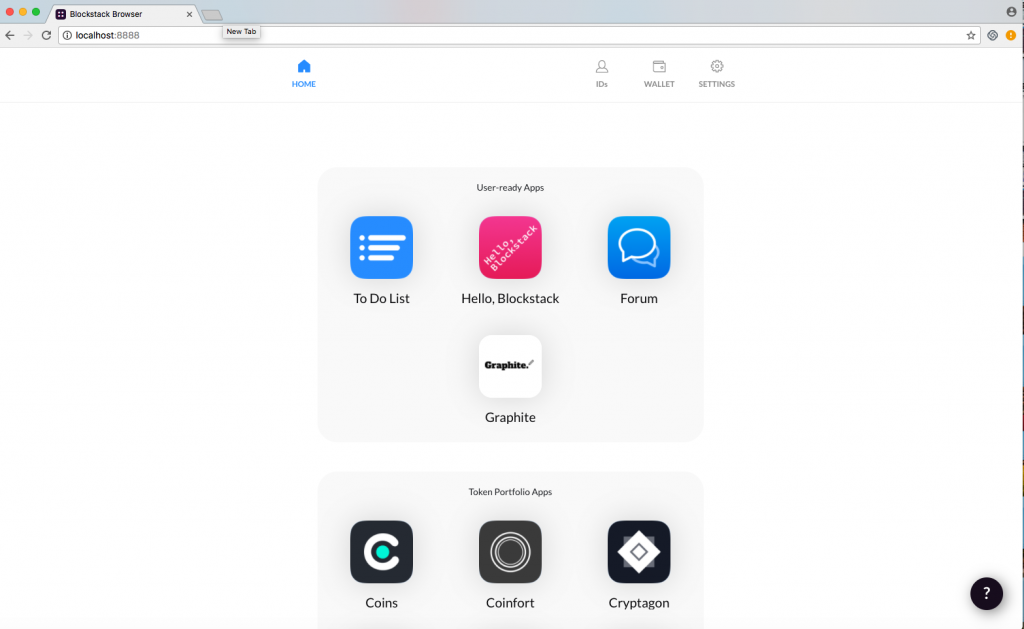 Now, the user chooses to Login with Blockstack and is then redirected to the "Welcome" screen from Graphite in which the user has to approve the sign-in request.  At this juncture, the user is taken to the Graphite home page (redacted and may be appear a little different for the user):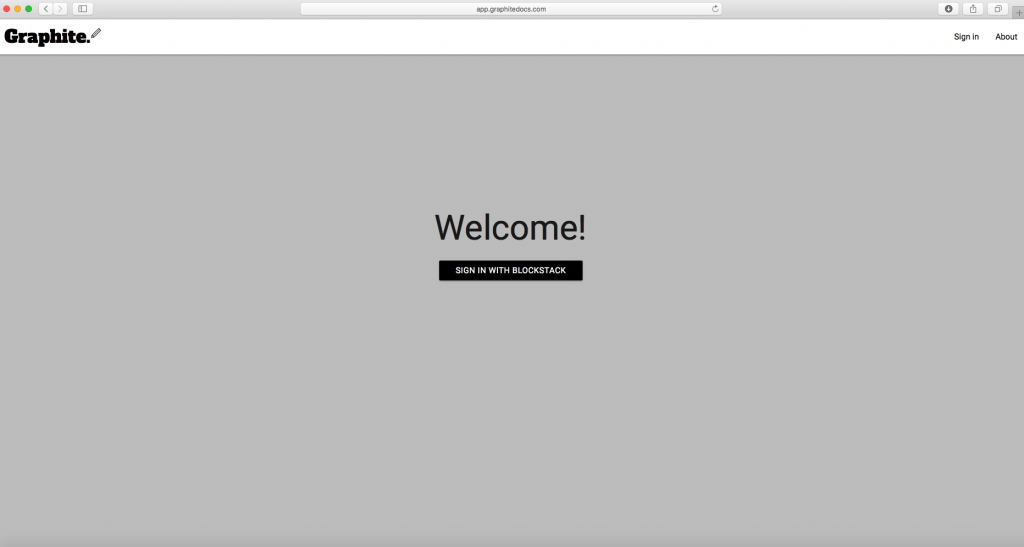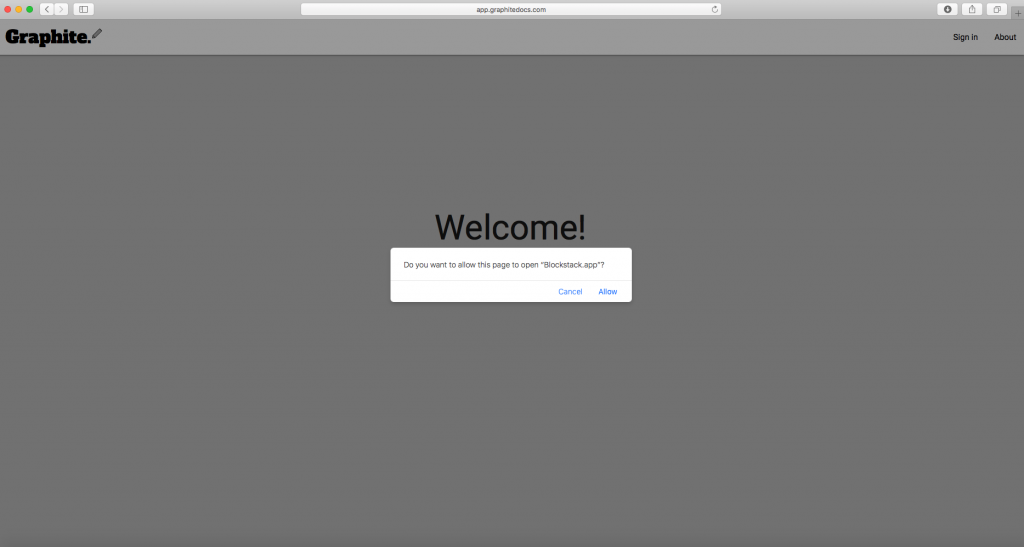 Graphite home page for document and sheet creation (below) –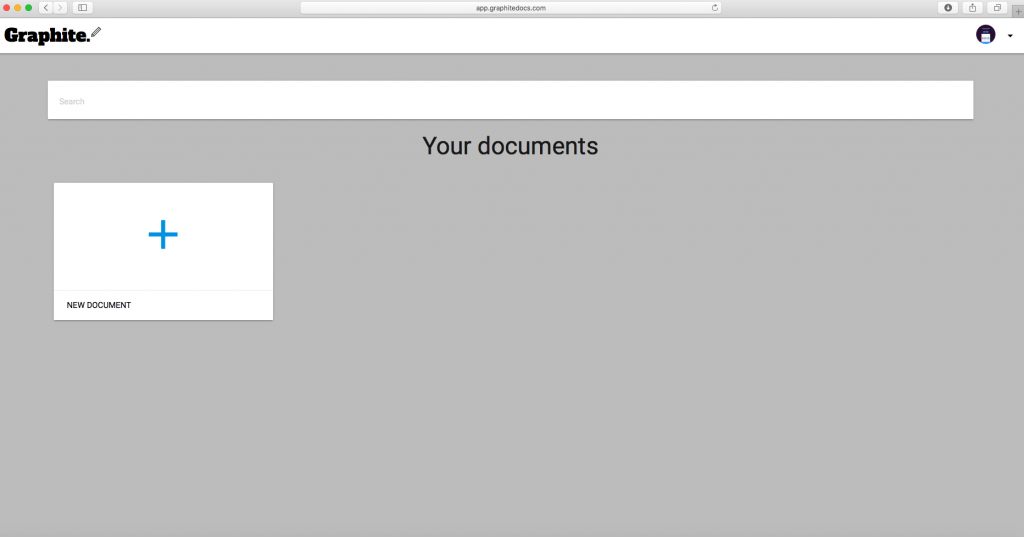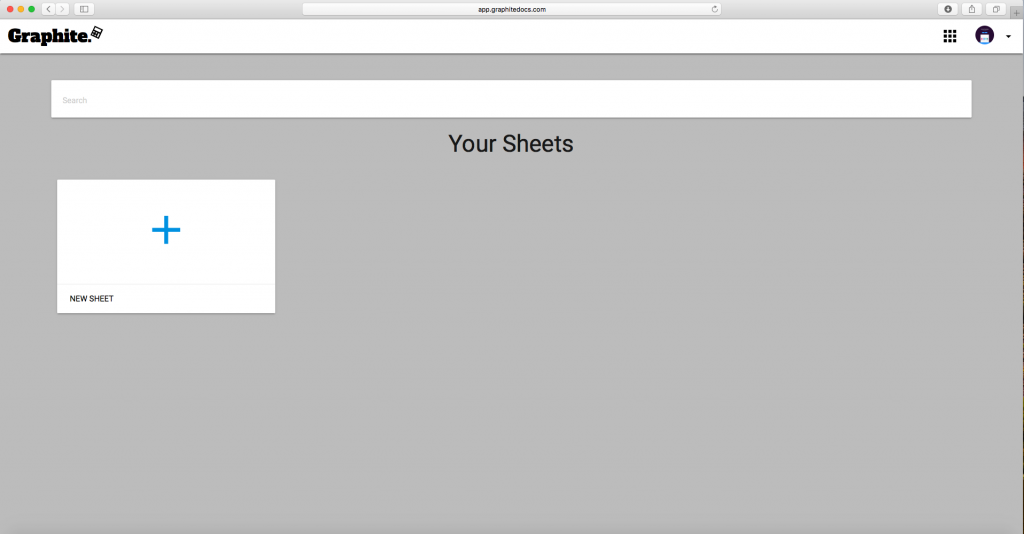 As shown below, we have created a couple of test documents and saved them only for our use (unless you want to give someone else access in order to share or collaborate – see multi-reader below and *Caveat).  For example, we created and saved a couple of encrypted files (e.g., GRT and Test of Graphite) to one of our chosen storage platforms (e.g., in this case we are using the default storage provided by Blockstack).  As shown below, the "Your Documents" page appears as follows with the above mentioned file(s).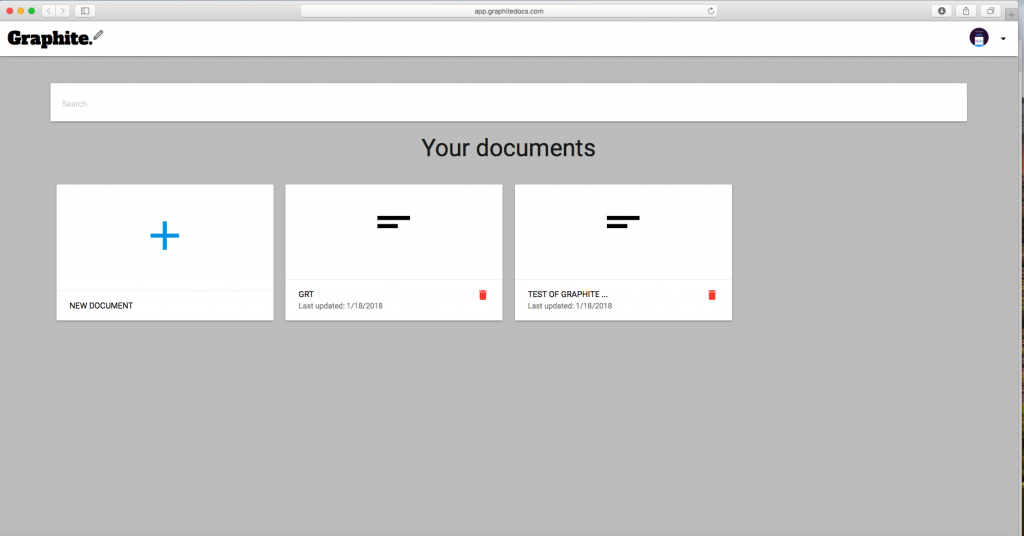 Multi-Reader Access: Blockstack – via the blockstack browser – introduced/enabled the multi-reader storage capability which will allow users to share documents sheets with other users (e.g., user A may give access to its data to user B)(See this link from the developer of Graphite – Graphite too).
ONE *CAVEAT – YOU WILL NEED A BLOCKSTACK I.D. PURCHASED FROM THE BLOCKSTACK NAMING SYSTEM (BNS) IN ORDER TO USE THE SHARING FEATURE OF GRAPHITE AT THIS TIME…

Some screenshots of an example of multi-reader in action using Graphite:
Right hand side – SHARED FILES in drop down menu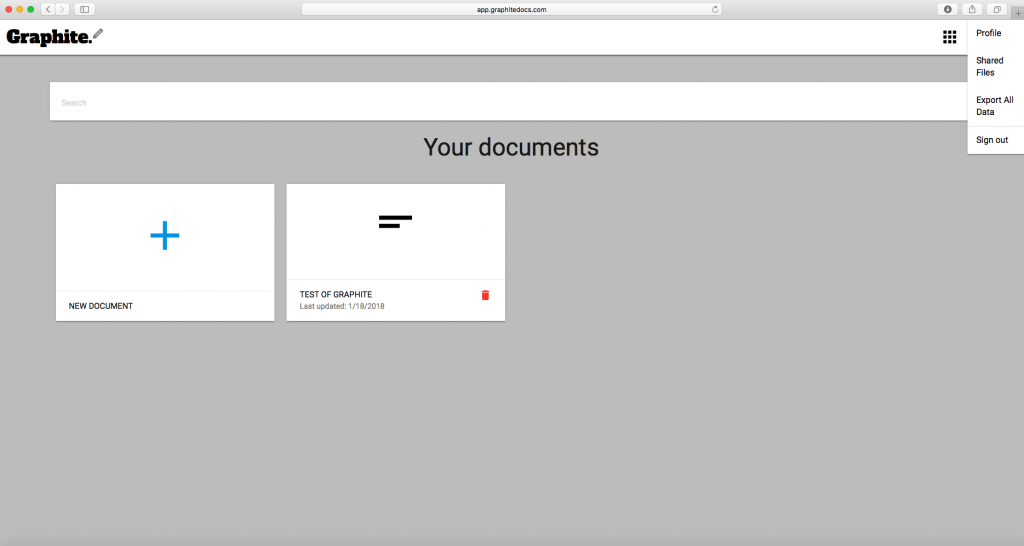 Choose a file to share and then click the Edit button.  A pop-up will open up asking for the I.D. of the person – who is also using the Blockstack Browser – that you want to share the file with.  Enter the I.D. and select SHARE.  Now, that person with that I.D. on blockstack will be able to access the document, edit it etc.  Go try it out and begin creating and/or sharing your creations with others.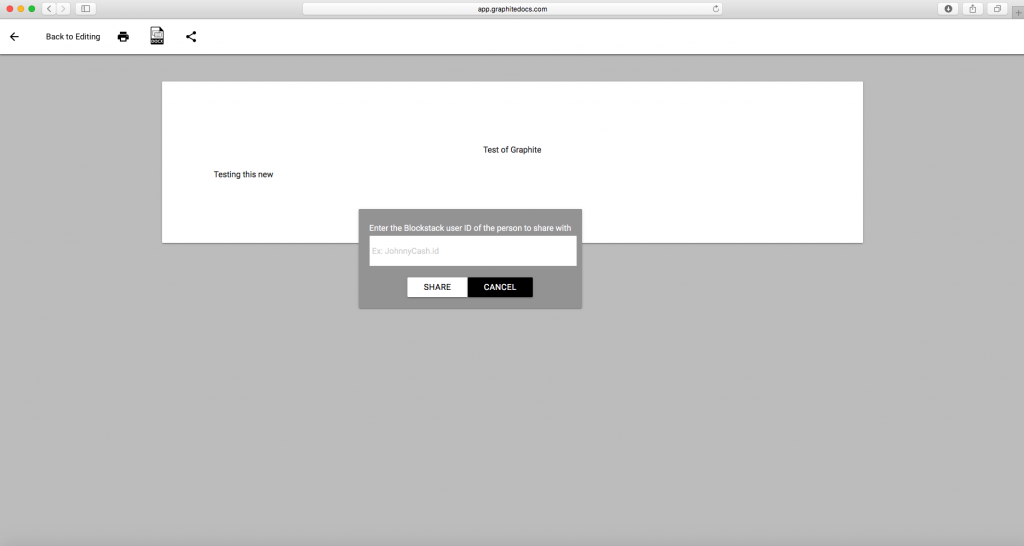 ---
What a great dApp!  Graphite has brought the blockstack community the first working decentralized secure and encrypted word processing application (sheets too).  Go check out Graphite and try out the word processing application and begin creating and/or sharing your creations.
---
Note: If you do not have the Blockstack browser, please see this link (note – to enable the full functionality of any dApp built for the Blockstack ecosystem (e.g., building a new internet, a decentralized internet, re-decentralizing the internet) you need to use the Blockstack browser).
Thanks again for visiting The Stack CafeTM and we look forward to hearing from you. Please help us put out the word on Web3.0 by posting a comment below and signing up for e-mail notifications for future updates (right side-bar). Let's help build the new internet | The Decentralized WayTM. A decentralized internet | The Way The FutureTM.