Welcome to the Stack CafeTM — The Signature Bounties challenge closes in one (1) week.  And, you can be positive that all teams participating in the Bounty are probably coding well past midnight in order to further fine tune the code that culminates in some fantastic decentralized communication dApps.  Don't forget, the dApp submission deadline is February 16, 2018 at 11:59 p.m. eastern.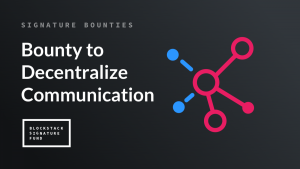 The team with the best decentralized community messaging dApp wins the bounty – $25,000.  And, the team with the best decentralized P2P encrypted messaging dApp wins the other bounty – $25,000.  Good luck to all participants.

---
Resources
Blockstack
Community Messaging Collaborators or Open Source (fork)
---
Note: If you do not have the Blockstack browser, please see this link (note – to enable the full functionality of any dApp built for the Blockstack ecosystem (e.g., building a new internet, a decentralized internet, re-decentralizing the internet) you need to use the Blockstack browser).
Thanks again for visiting The Stack CafeTM and we look forward to hearing from you.  Feel free to post a comment below and sign up for e-mail notifications for future updates (right side-bar).  Please help us put out the word on Web3.0 and help build the new internet | The Decentralized WayTM.  A decentralized internet | The Way The FutureTM.