Welcome to the Stack CafeTM — Blockstack: Golang Implementation of Profile Indexer for Blockstack.

A Blockstack engineer has been coding/hacking on the weekends to put together a profile indexer for Blockstack in a golang implementation.  If you are curious about that or a developer putting together a dApp for Blockstack, this might be a good thing for you.  Go check it out.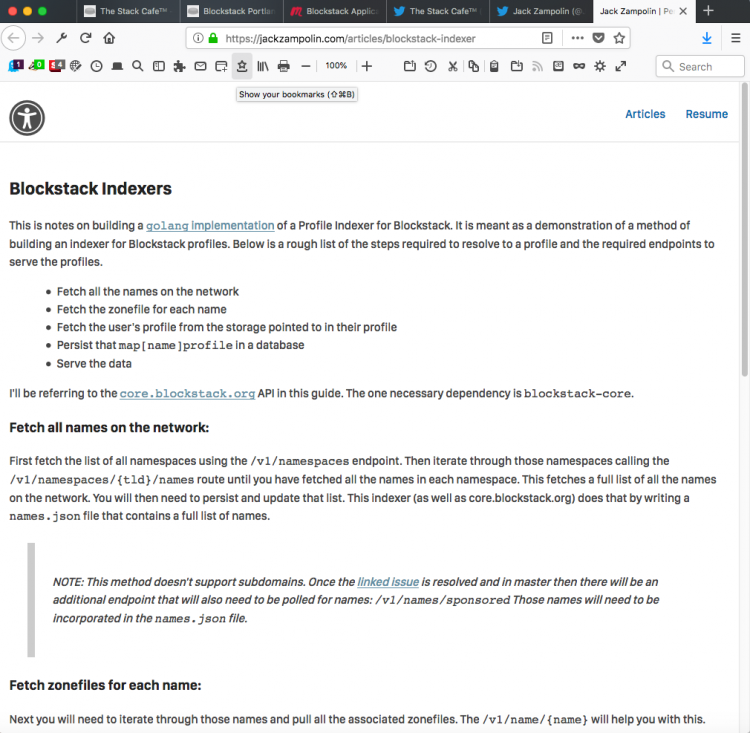 Personal Site for Jack Zampolin


Github for Jack Zampolin


Twitter for Jack Zampolin
In addition, if you are in Portland, Oregon on April 18, 2018, one might find a unique opportunity to talk to a Blockstack engineer – Jack Zampolin – in person.  Remember, Mr. Zampolin will be joining Dan Trevino – Blockstack Evangelist, and Ty George – Souq Developer (cryptocracy) during the Blockstack Portland meetup happening on 4.18.2018. 
For more on the event, please visit this link here.
Portland is hosting another Meetup on April 18, 2018 – UPDATE. Previously we discussed this meetup group in this post here.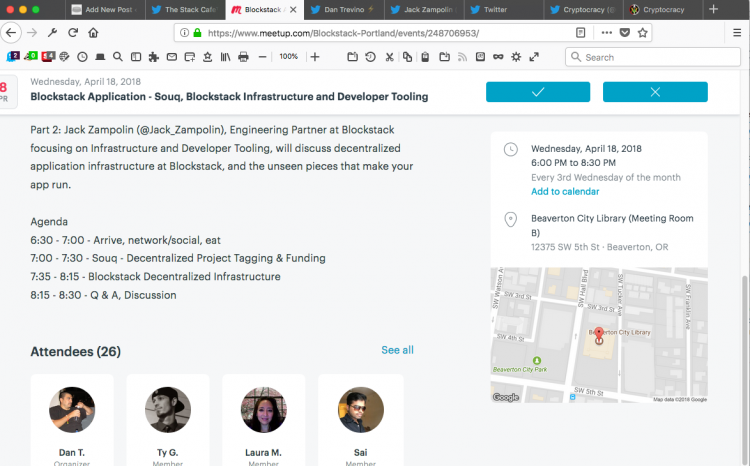 ---
Other helpful links for more information on Blockstack include:
Blockstack – the new decentralized application platform and ecosystem for the decentralized/re-decentralized internet (dApp, dApps, blockchain, bitcoin, distributed and Web 3.0)
---
Note: If you do not have the Blockstack browser, please see this link (note – to enable the full functionality of any dApp built for the Blockstack ecosystem (e.g., building a new internet, a decentralized internet, distributed, blockchain, bitcoin, decentralized, re-decentralizing the internet) you need to use the Blockstack browser).
For more on All things DeveloperTM, see this link here. For more on the engineering meeting at Blockstack, please visit the forum. Blockstack makes the internet you use better!TM
Thanks again for visiting The Stack CafeTM and we look forward to hearing from you. Please help us put out the word on Web3.0 by posting a comment below and signing up for e-mail notifications for future updates (right side-bar). Let's help build the new internet | The Decentralized WayTM. A decentralized internet | The Way The FutureTM.