Blockstack Berlin: A Signature Fund – Blockstack: Learning Sessions and Hackathon at the Signature Fund event in Berlin – March 1-4, 2018.  Not only is Blockstack Berlin bringing together top experts on data privacy, blockchain, information theory, and the decentralized community at large to imagine, learn about, and create decentralized applications, it will also be hosting a Learning Session and a Hackathon.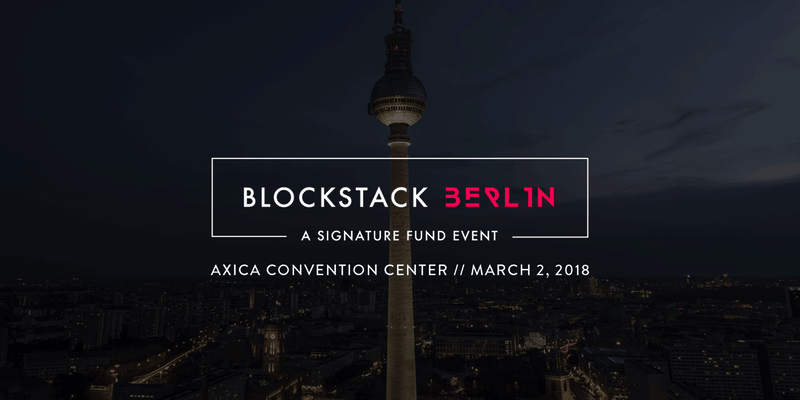 Learning Session
The Blockstack learning session is a not miss event for developers interested in building on the Blockstack ecosystem.  The learning session will be held on Thursday, March 1, 2018 and will include the following:
introduction to Blockstack

Blockstack Identity

Blockstack;s storage protocol – Gaia

Blockstack's Javascript – blockstack.js storage strategies

Authentication in a dApp

Blockstack's Atlas network overview

Developed dApps

Much more…
Thursday, March 1, 2018 (Axica)*




Blockstack Learning Sessions 11am – 2:00pm

Blockstack Learning Sessions will be TECH HEAVY Sessions.

Please email shannon@blockstack.com with any questions and to register to attend.
Hackathon
In addition to the learning session, Blockstack Berlin is also hosting a hackathon.  The scheduled hackathon starts the evening of Friday, March 2 and ends Sunday, March 4, 2018. 
Friday, March 2 (Evening) – Sunday, March 4, 2018 (Betahaus Berlin)
---
Date and Time
Fri, March 2, 2018
8:30 AM – 6:00 PM CET
Location
Axica convention center GmbH
Pariser Platz 3
10117 Berlin
Germany
---
Helpful links for more information on Blockstack include:
Blockstack – the new decentralized application platform and ecosystem for the decentralized/re-decentralized internet (dApp, dApps, and Web 3.0)
---
Note: If you do not have the Blockstack browser, please see this link (note – to enable the full functionality of any dApp built for the Blockstack ecosystem (e.g., building a new internet, a decentralized internet, re-decentralizing the internet) you need to use the Blockstack browser).
Thanks again for visiting The Stack CafeTM and we look forward to hearing from you. Please help us put out the word on Web3.0 by posting a comment below and signing up for e-mail notifications for future updates (right side-bar). Let's help build the new internet | The Decentralized WayTM. A decentralized internet | The Way The FutureTM.