Blockstack Berlin: A Signature Fund – Blockstack: Speaker Lineup for the Signature Fund event in Berlin – March 2, 2018.  Blockstack Berlin is bringing together top experts on data privacy, blockchain, information theory, and the decentralized community at large to imagine, learn about, and create decentralized applications.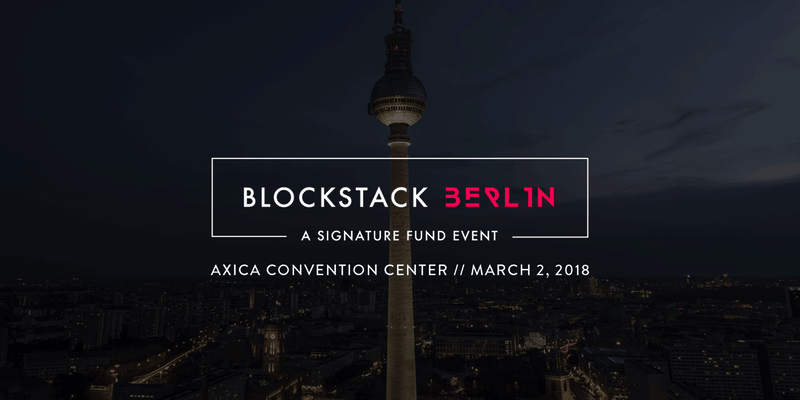 The event is a who's who of decentralized internet thinkers from Nick Szabo, George Gilder, Elizabeth Stark, Juan Benet, Edward Snowden… just to name a few.  The entire lineup of speakers is top notch.  Let take a quick peek of the aforementioned speakers:
Nick Szabo – is a computer scientist, lawyer and cryptographer known for his research in digital contracts and digital currency. He is credited with "bitgold", a precursor to bitcoin and developed the concept of "smart contracts".  Please find a blog by Mr. Szabo here – http://unenumerated.blogspot.com/


George Gilder – information theorist, investor, writer, economist, techno-utopian advocate, and co-founder of the Discovery Institute.

Juan Benet – creator of IPFS and Filecoin, founder of Protocol Labs.   He is the inventor of the InterPlanetary File System (IPFS), a new protocol to make the web faster, safer, and more open, and Filecoin, a cryptocurrency incentivized storage network.

Elizabeth Stark – Ceo and Co-founder of Lightning.  Lightning is an open protocol layer that leverages the power of blockchains and smart contracts to make cheap, fast, private transactions available to anyone around the world.  The lightning protocol dramatically improves the scalabilty of blockchain currencies like Bitcoin.

Edward Snowden – is an American computer professional, former Central Intelligence Agency (CIA) employee, and former contractor for the United States government.
And, don't forget, the co-founders of Blockstack (Muneeb Ali and Ryan Shea) are on the line-up too.  A complete listing of all of the speakers scheduled to speak this Friday can be found at this link here.  Check out the Blockstack Berlin video here as well as past Blockstack event videos here.
These people know the decentralized internet like it was the back of their hand.  All of these people have what I call [sg_popup id="17″ event="hover"]The Expanding MindTM[/sg_popup].  If you have any interest in this stuff and want to be enlightened about decentralization of the internet, make sure you join everyone at Blockstack Berlin.
---
Date and Time
Fri, March 2, 2018
8:30 AM – 6:00 PM CET
Location
Axica convention center GmbH
Pariser Platz 3
10117 Berlin
Germany
---
Helpful links for more information on Blockstack include:
Blockstack – the new decentralized application platform and ecosystem for the decentralized/re-decentralized internet (dApp, dApps, and Web 3.0)
---
Note: If you do not have the Blockstack browser, please see this link (note – to enable the full functionality of any dApp built for the Blockstack ecosystem (e.g., building a new internet, a decentralized internet, re-decentralizing the internet) you need to use the Blockstack browser).
Thanks again for visiting The Stack CafeTM and we look forward to hearing from you. Please help us put out the word on Web3.0 by posting a comment below and signing up for e-mail notifications for future updates (right side-bar). Let's help build the new internet | The Decentralized WayTM. A decentralized internet | The Way The FutureTM.