Welcome to the Stack CafeTM — UPDATE – Blockstack Evangelists team grows: The Developer, Supporter, Growth Partner, Promoter – Evangelist for Blockstack.
As we mentioned in an earlier post, another very important part – a vital part – of the Blockstack ecosystem is the Evangelist. The Evangelist is person on the front line, so to speak, promoting and growing the Blockstack ecosystem in their own backyard.  Evangelists are making it happen in the real world, everyday.
As Blockstack states – "Everyday[ ] Evangelists are helping educate and build community around the decentralized web movement."  Well, it appears that the front line has grown to include new Evangelists from (see screenshots below):
Atlanta, GA

London, England

Berlin, Germany

Bangalore, India

Monterry, Mexico

Boston, MA

San Francisco, CA

Izmir, Turkey

Shenzen, China

Abu Dhabi, UAE

Tagbilaran City, Phillipines

Singapore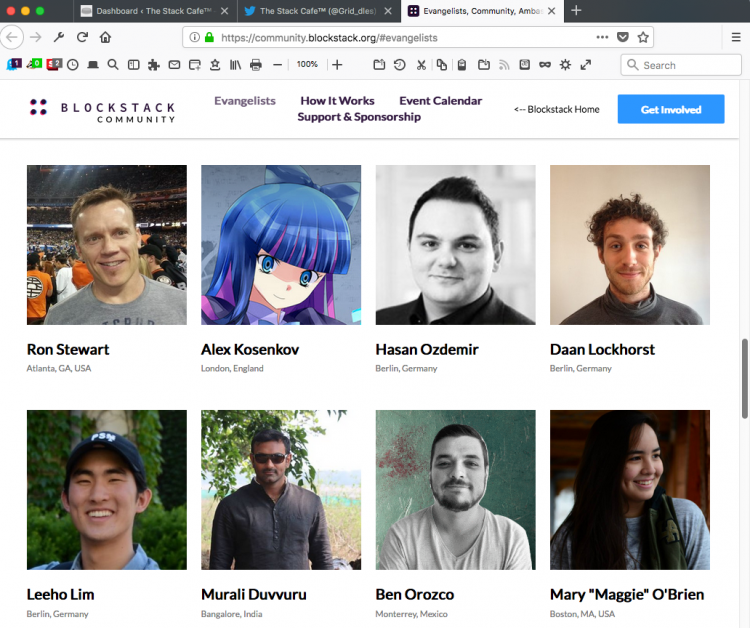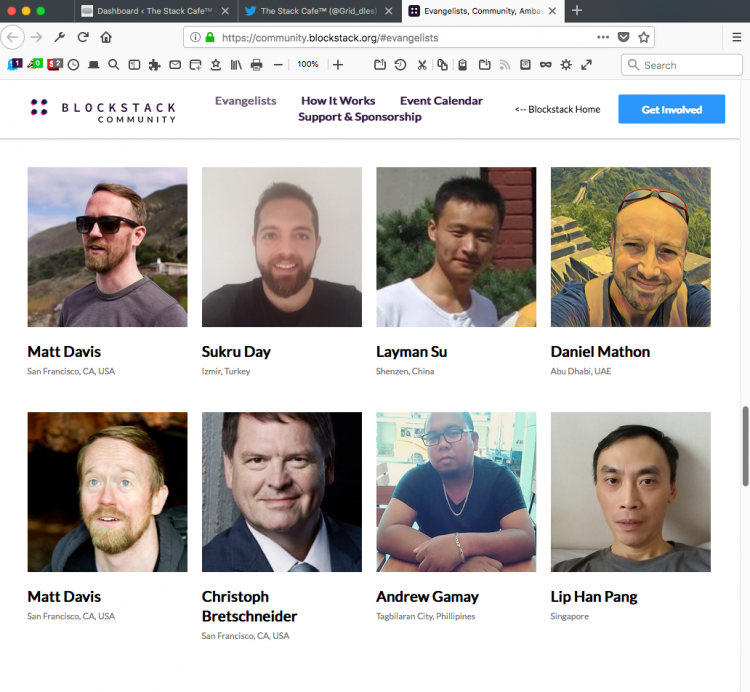 For a more detailed list of the currently active Evangelist, please follow this link here. Evangelists are located all over the world – Oregon, Florida, Vietnam, Brussels, Arizona, Georgia, Texas, Japan, New York Missouri, England, Spain and India.

How to get involved as an Evangelist or if you need help for an event in your community, please reach out to Blockstack. 

Blockstack is ready to support events and community building in a variety of ways – if it is related to the decentralized web. Please reach out Blockstack by following this link here.
Blockstack wants to help all Evangelists become leaders in the community that is reshaping the future of the internet and will help empower and support each evangelist around the world in individualized ways.
Just let Blockstack know how it can support you and your blockchain or decentralized web community.
---
Other helpful links for more information on Blockstack include:
Blockstack – the new decentralized application platform and ecosystem for the decentralized/re-decentralized internet (dApp, dApps, blockchain, bitcoin, distributed and Web 3.0)
Blockstack Community, Evangelist and …
---
Note: If you do not have the Blockstack browser, please see this link (note – to enable the full functionality of any dApp built for the Blockstack ecosystem (e.g., building a new internet, a decentralized internet, distributed, blockchain, re-decentralizing the internet, bitcoin) you need to use the Blockstack browser).
For more on All things DeveloperTM, see this link here. For more on the engineering meeting at Blockstack, please visit the forum. Blockstack makes the internet you use better!TM
Please help us put out the word on Web3.0 by posting a comment below and signing up for e-mail notifications for future updates (right side-bar). Let's help build the new internet | The Decentralized WayTM. A decentralized internet | The Way The FutureTM.
Thanks again for visiting The Stack CafeTM and we look forward to hearing from you.